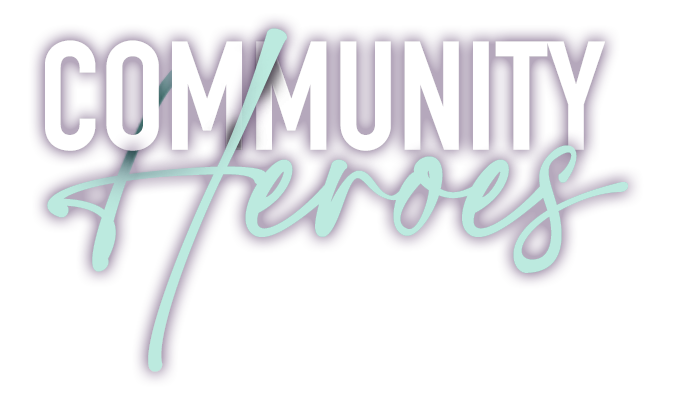 A New Webinar Series from Upward Sports
Season 2 of our webinar series is back! Titled "Community Heroes", this season's webinar series from Upward Sports will provide invaluable information to church leaders, sports directors, and volunteer leaders on how local churches are changing the game by creating customized sport experiences, offering new sports to their communities, and utilizing the improved technology, all offered through Upward's new initiative called Project Select. Hear stories from Upward church partners across the country who are bringing their communities together in innovative ways through their sports ministry. We hope that this series inspires and encourages others to continue to labor in the Gospel work of making Jesus known through the power of sports.
until the next webinar of our new series!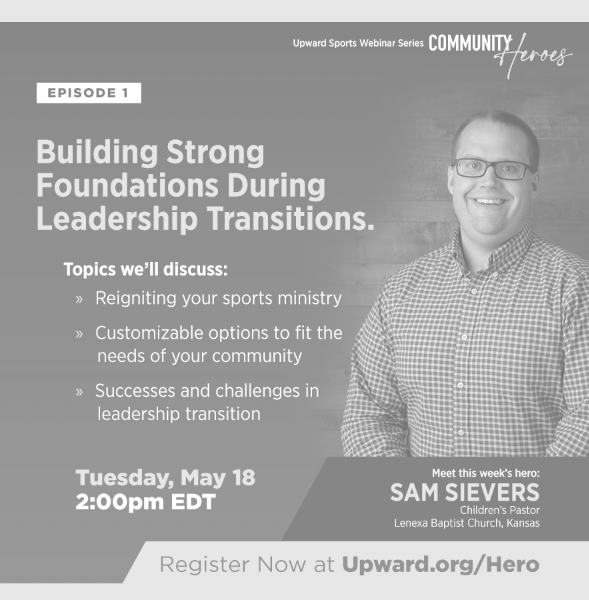 CONCLUDED - Episode 1 | May 18 | 2:00pm EDT
Building Strong Foundations during Leadership Transitions
with Sam Sievers | Children's Pastor
Lenexa Baptist Church, Kansas


Sam Sievers is a longtime coach of Upward. Upon accepting his position as Children's Pastor at a thriving church, Lenexa Baptist Church in Lenexa, KS he inherited a successful Upward sports ministry. As the Children's Pastor, he has a heart for intentional children's ministry. Sam also understands the importance of sports leadership transition by discussing challenges and successes he has seen, as well as the importance of building a strong foundation for future leaders. Lenexa Baptist was innovative this past year by running a winter league to continue to offer ministry to their community.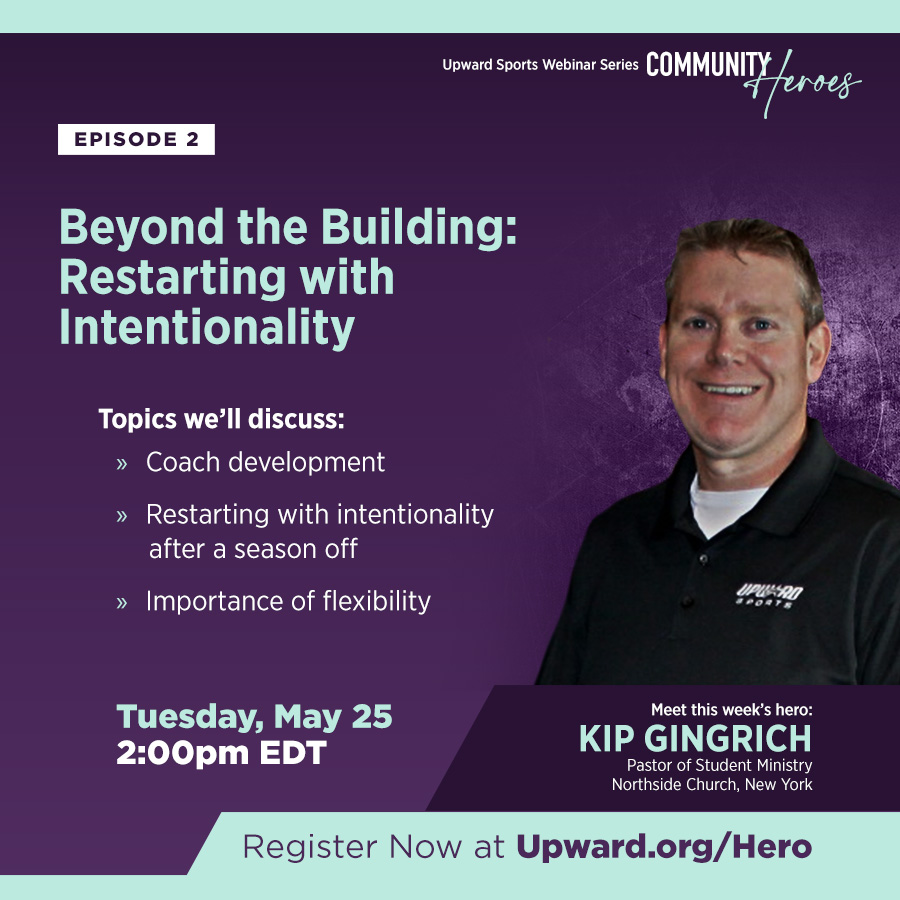 CONCLUDED - Episode 2 | May 25 | 2:00pm EDT
Beyond the Building: Restarting with Intentionality
with Kip Gingrich | Pastor of Student Ministry

Northside Church, New York


Kip Gingrich is a long-time coach and director of Upward and is intentional in reaching families through sports. Kip is the Pastor of Student Ministry at Northside Church in Liverpool, NY where they have been running sports for 13 years . Kip truly understands the importance of coach development and mentoring them after the season ends. In this conversation, he will share how Northside plans to restart summer camps and transition into winter basketball after taking last season off, due to the pandemic.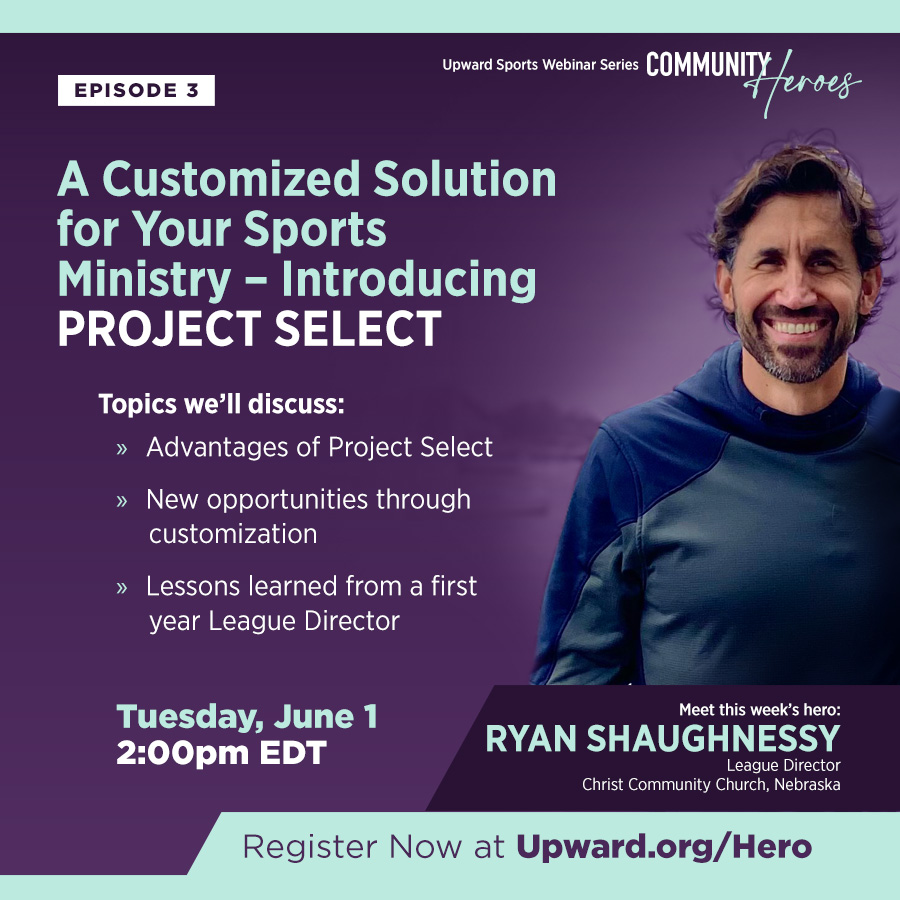 CONCLUDED - Episode 3 | June 1 | 2:00pm EDT
A Customized Solution for Your Sports Ministry – Introducing Project Select
with Ryan Shaughnessy | League Director

Christ Community Church, Nebraska


Ryan Shaughnessy is the league director at Christ Community Church in Omaha, NE and was one of the first Upward church partners to create his league through Project Select, Upward's new initiative to provide a customized offering for each sports ministry. He shares his thoughts on why customization is important for a church sports league, especially when it comes to meeting the unique needs of the community. Ryan is a first-year league director with knowledge of being a soccer coach for many years.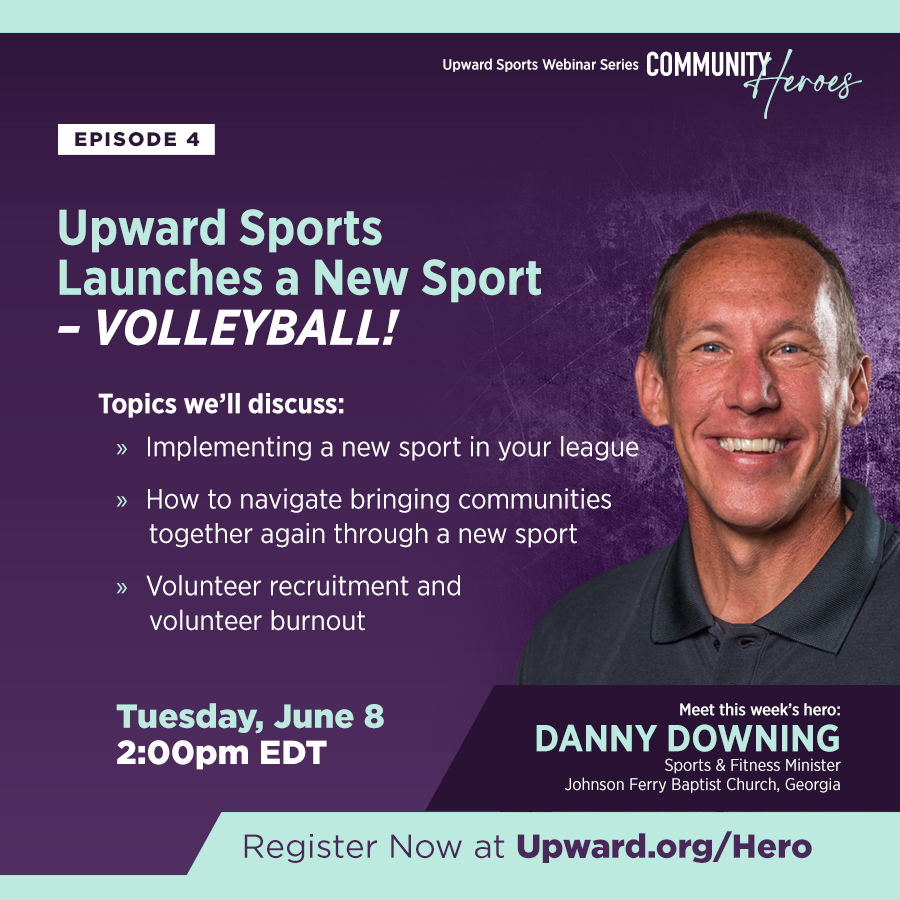 CONCLUDED - Episode 4 | June 8 | 2:00pm EDT
Upward Sports Launches a New Sport – VOLLEYBALL!
with
Danny Downing
| Sports & Fitness Minister
Johnson Ferry Baptist Church, Georgia


Danny Downing is the associate pastor of sports and fitness at Johnson Ferry Baptist Church in Marietta, GA. For over 21 years, Danny has been leading the Sports & Fitness ministry offering various programs, including Upward Sports, for people of all ages to connect with the community and to get plugged into the church. Danny and his team were one of the volleyball pilot churches this past season in helping to modify and adjust this new sports offering. Join us to hear about this exciting new opportunity, how to launch a new sport in your current sports ministry, and much more.
Topics we'll discuss:
Implementing a new sport in your league
How to navigate bringing communities together again through a new sport
Volunteer recruitment and volunteer burnout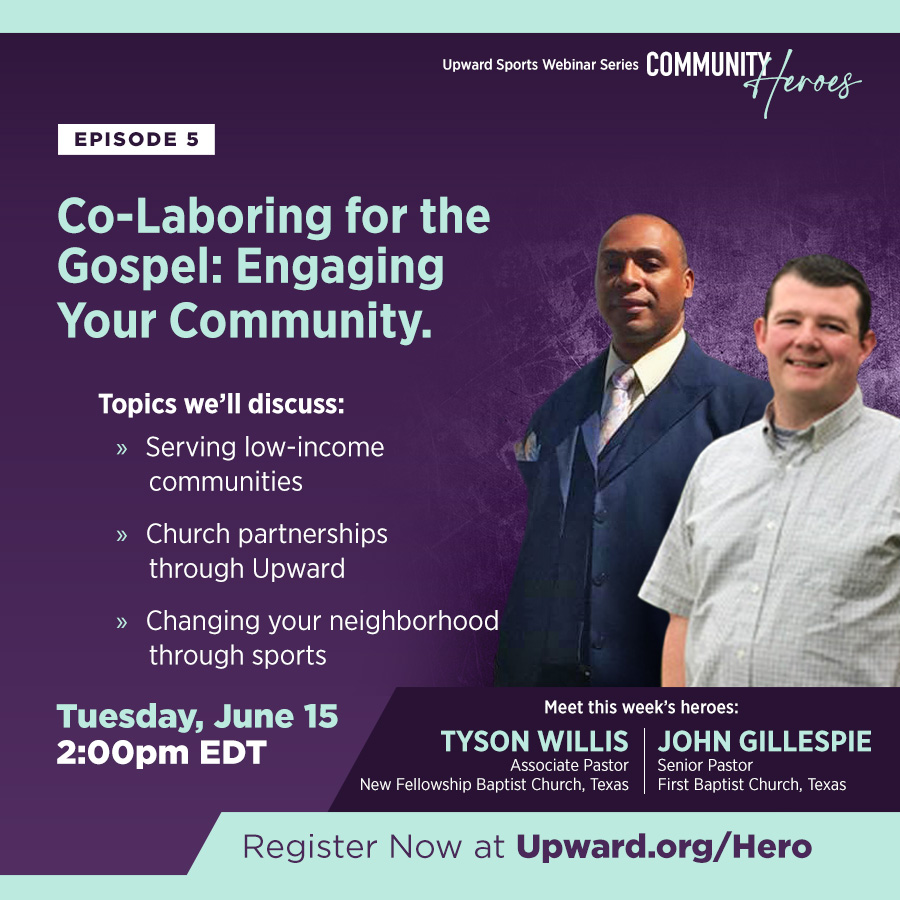 CONCLUDED -

Episode 5 | June 15 | 2:00pm EDT
Co-Laboring for the Gospel: Engaging Your Community
with
Tyson Willis
| Associate Pastor
New Fellowship Baptist Church, Texas

and
John Gillespie
| Senior Pastor
First Baptist Church, Texas


John Gillespie with First Baptist Church and Tyson Willis with New Fellowship Baptist Church partnered together to create Tulia Upward Sports, in Tulia TX. To increase the reach in their community, John and Tyson partnered together to make a difference. In their conversation, listen to their insights and lessons learned from partnering together to run sports as well as identifying and meeting the deeper needs of families
Topics we'll discuss:
Serving low-income communities
Church partnerships through Upward
Changing your neighborhood through sports
connect with us on social media
©2020 Upward Unlimited™. Upward® is a registered trademark of Upward Unlimited. Upward is a 501(c)(3) non-profit ministry.