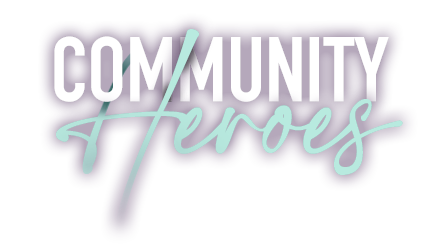 Bringing communities together through sports.
What is a Community Hero?
An individual who brings their community together with an innovative approach to sports ministry while serving selflessly and inspiring life long change on and off the court. We want to celebrate these difference makers who labor in the Gospel work of making Jesus known through the power of sports.
"The more opportunities we have for people to connect, the greater the chance of being able to share the gospel with them and their family."
That's the heart behind the sports ministry at Second Baptist Church in Warner Robins, Georgia. The church started Upward Basketball in 1999, and the ministry has been growing ever since. Jimmy Moneypenny, Recreation and Activities Pastor, says the church's desire to keep growing and adding to their sports leagues is all about connecting with the people in the Warner Robins community.
In the twenty-three years since they started, the church has seen the basketball program grow and reach thousands of families. But they weren't content to only reach families whose children wanted to play basketball. In 2002, they added Upward Soccer.

"We knew soccer was extremely popular with young kids," Jimmy says. "And we live in a military community where we have a very large air force base, and we get a lot of people that have been overseas or in other parts of the country, and they love soccer. It was a great way to use another sport."

Not long after, Second started offering baseball and softball. Even though it was not available as an official Upward sport at the time, they were able to use Upward's licensing program to support some of the needs of their league. Now, Jimmy and his team will get to take advantage of all the resources that will be offered as Upward Baseball & Softball is officially launched as a fully-supported sport this season.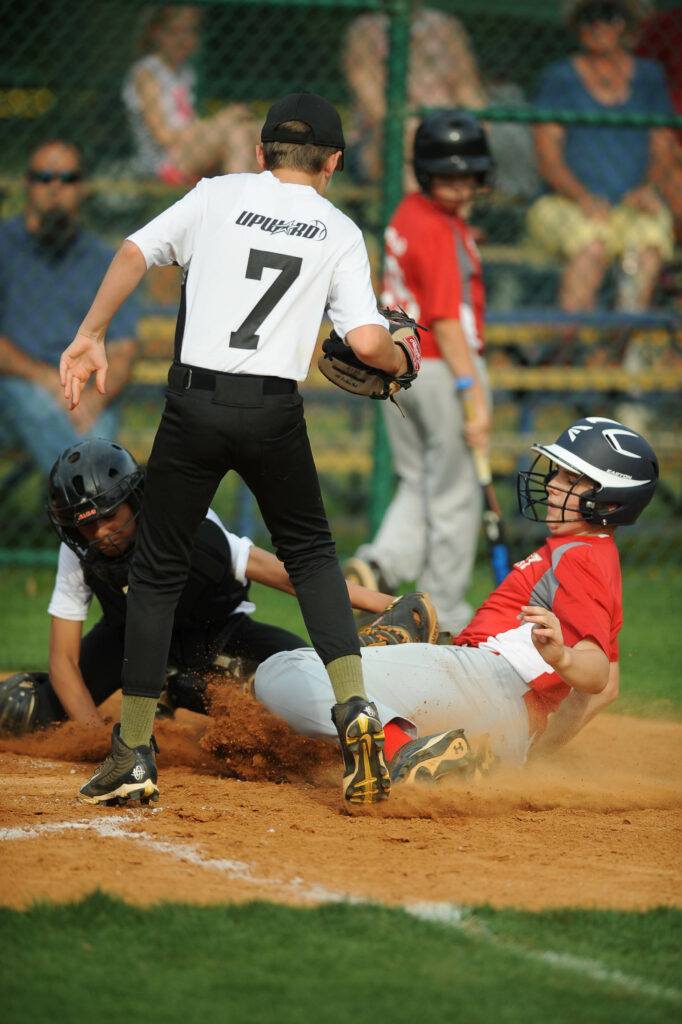 Jimmy says, "I'm super excited about it for a lot of different reasons, but one is simply that I'm excited about getting my uniforms from Upward!"

In the past, Jimmy has run into problems getting baseball uniforms from an outside source. He's glad the shipping times will be shorter now that he can get his uniforms through Upward. "Part of the problem is that Upward has spoiled me," Jimmy jokes.

Jimmy originally helped bring Upward to Second Baptist Church as a layperson while he was working as a local middle school teacher and coach. A few years later, God called him to ministry, and Jimmy joined the staff at Second. He believes sports is truly one of the best ways for churches to connect with the people in their communities.

Jimmy says, "We saw from the get-go that sports was a great way to reach out into our community—to cross socioeconomic barriers, racial barriers, everything. Sports is probably the largest common ground platform that we have in our culture. Anybody can talk about it at any time. And so we really saw the potential of using that as a platform to share the gospel. Our pastor and our church got behind it and really bought into it. And it has really grown and blossomed, and I feel like it has really impacted our community in a great way."
Second's sports ministry is intentional about valuing all people, God's Word, an excellent experience, and quality coaching. They know volunteers are crucial to their success. Coaches, in particular, are the boots on the ground within sports ministry.

"We pour a lot into our coaches," Jimmy says, "to equip, encourage, and empower them to share the gospel. They are on the front lines of what we do. The coaches are going to meet kids and families that I'm not going to necessarily meet. They're going to connect with them in a particular way. So we want to make sure that we have quality coaching socially, spiritually, and physically."

But running leagues for multiple sports requires a lot of volunteers. Jimmy says they recruit volunteers 24/7, 365 days a year.

"We may be in basketball season," Jimmy says, "but we'll be recruiting for baseball and softball."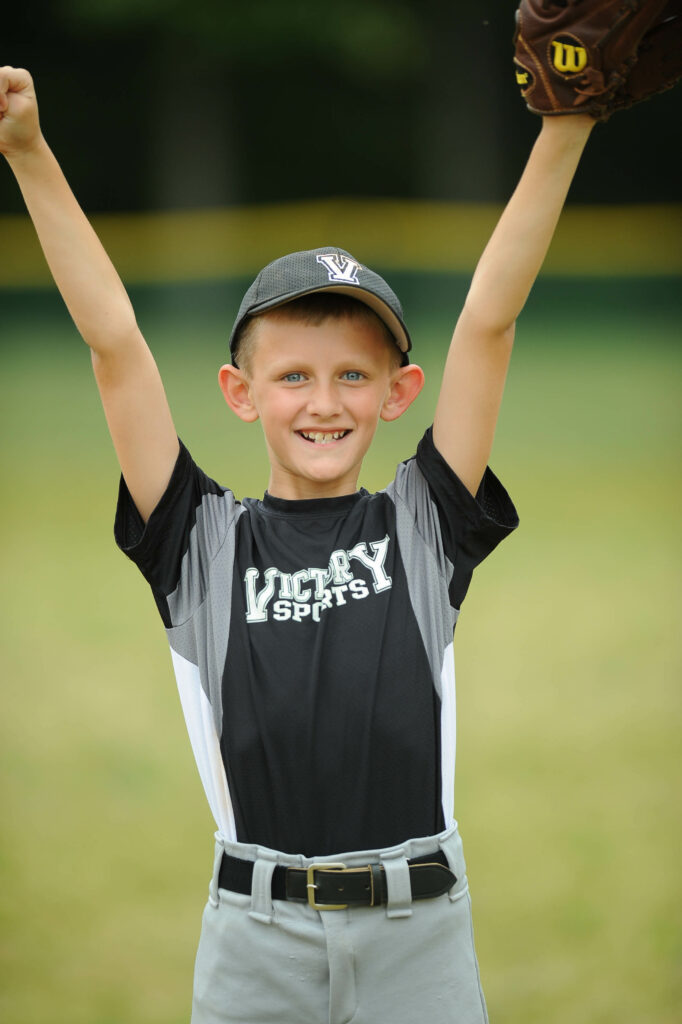 They rely heavily on word-of-mouth and connecting with potential volunteers who already have an interest in a particular sport.

"We are a church that had a servant mindset to begin with," Jimmy says. "But I think this has opened up a lot of doors for people to serve who wouldn't normally serve. It's gotten a lot of people involved. My basketball director, my referee commissioner, and some others—we have a lot of people who serve and who have really invested in our people that God has changed their life through this ministry."
The continued growth of Second's sports ministry is a testament to the intentionality and hard work of everyone involved. They have never been satisfied with the status quo. Instead, they are always looking for new ways to connect people to Jesus through sports. They've continued to grow numerically, to expand the sports they offer, to raise up more volunteers. And they even continue to expand in a much more literal sense.

When they began sports ministry all those years ago, the church only had a gym. With the addition of soccer, Second acquired another church's campus across the street that included 26 acres of land. A few years ago, they purchased another 107 acres, and now they are developing their very own sports complex on that land. The soon-to-be-completed first phase includes baseball and softball fields, concessions, and a playground.

This story is one of God's incredible faithfulness to grow a ministry and change lives. No matter how big your ministry is—whether you've got one field or a sports complex—you can take inspiration from Jimmy and Second Baptist Church. You can always be asking, "What's next?" and looking for new opportunities to connect more people to Jesus.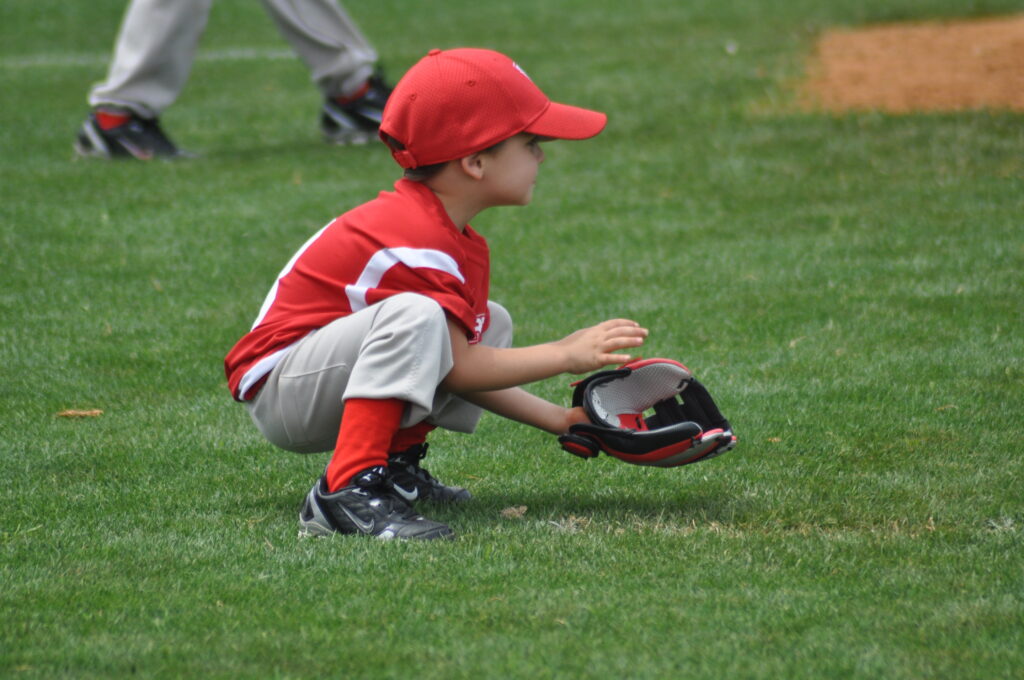 Memphis Baptist Church has been running Upward leagues for more than 20 years, but in 2018, they stopped offering their flag football and cheerleading league to focus solely on their basketball and cheerleading league.
Jason & Amy Wright, Memphis Baptist Church, Dothan, AL
Concerts, food outreach, and rummage sales all took place there, but the church had never used the space for sports. Nate, an athlete at heart, knew there was an opportunity for something more.
Nate Blanchard, Chapel Hill Church, Brighton, CO
Ray never considered making an impact beyond the crops he sold each harvest to provide for his wife and little girl. Until one evening working in those very fields, he heard a voice whisper to him a simple phrase. "If you build it, he will come."
Bill Gallahair + Dave & Kim Hicks, Harvest Fields Community Church, Deatsville, AL
Achieving the goal of becoming debt-free is worth celebrating for any church. But if you were to ask senior pastor Travis Osborne, he'd quickly tell you Valley Christian's ministry extends well beyond the walls of the sanctuary.
Matt & Candice Carter and Travis Osborne, Valley Christian Fellowship Church, Redding, CA
Summerville Baptist's basketball league has been thriving, celebrating its 25th season in 2022. John admits it hasn't always been easy … but the reward of families coming to the gym to hear about Jesus, outweighs all obstacles.
John Lybrand, Summerville Baptist Church, Summerville, SC
Children with ADHD. Children with dyslexia. Children with autism. Children with Down Syndrome. Jesus welcomed them all.
Vinh Nguyen, Cornerstone Church, Grand Island, NY
"I had some awesome chaplains in pro-ball who would say 'Don't be surprised if God calls you into ministry one day."
Brent Leach, First Baptist Church, Brandon, MS
"To say 2020 was a trying year for many churches would be a massive understatement."
Darrin Worthington & Mary Jordan, Trinity Baptist Church, Lake Charles, LA
"Reaching a Community for Christ with Excellence!"
Alan Royalty, First Baptist Church, Alpharetta, GA
"Making Bigger the Family of God."
Joel & Katie Stevens, Sherwood Oaks Christian Church, Indiana
"Utilizing Sports to Support P.E. in Christian Schools"
Brent Jenson, Angleton Christian School, Texas
Hear directly from experts in the fields of disease control, hygiene, communications, mental health and more to gain invaluable information about safely and thoughtfully reconvening in your community as shelter-in-place requirements are lifting.
Season 2 of our webinar series is back! Titled "Community Heroes", this season's webinar series from Upward Sports will provide invaluable information to church leaders, sports directors, and volunteer leaders on how local churches are changing the game by creating customized sport experiences, offering new sports to their communities, and utilizing the improved technology, all offered through Upward's new initiative called Project Select. Hear stories from Upward church partners across the country who are bringing their communities together in innovative ways through their sports ministry. We hope that this series inspires and encourages others to continue to labor in the Gospel work of making Jesus known through the power of sports.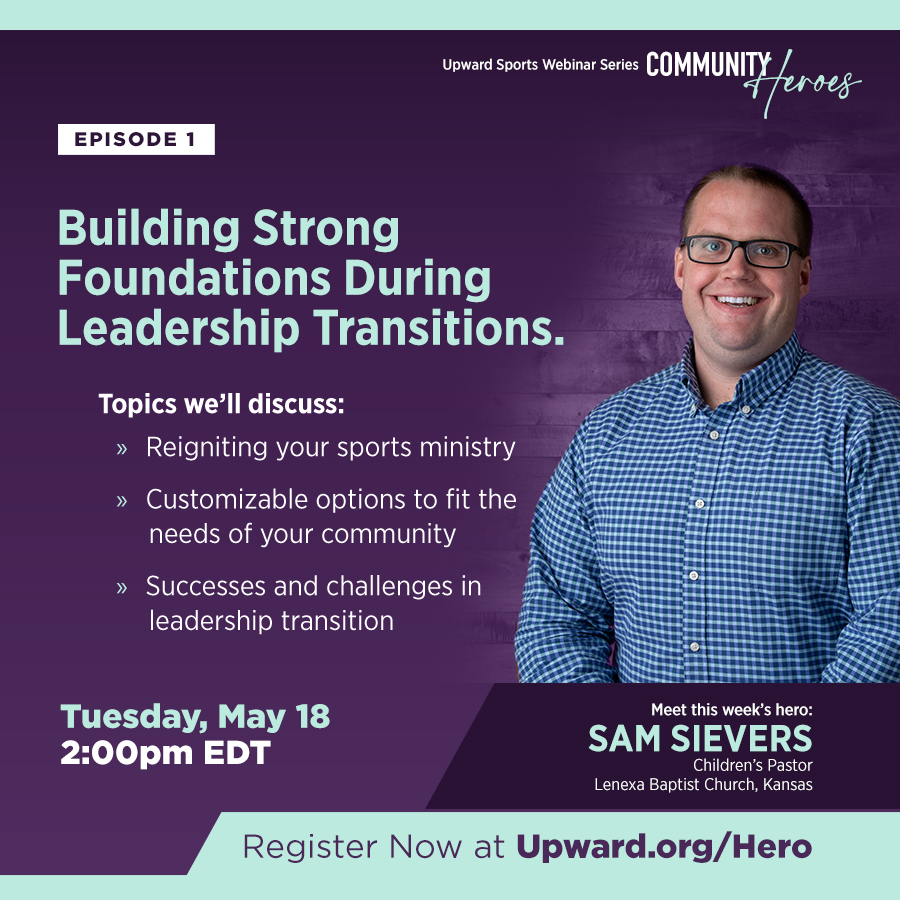 Building Strong Foundations during Leadership Transitions
with Sam Sievers, Children's Pastor at Lenexa Baptist Church, Kansas​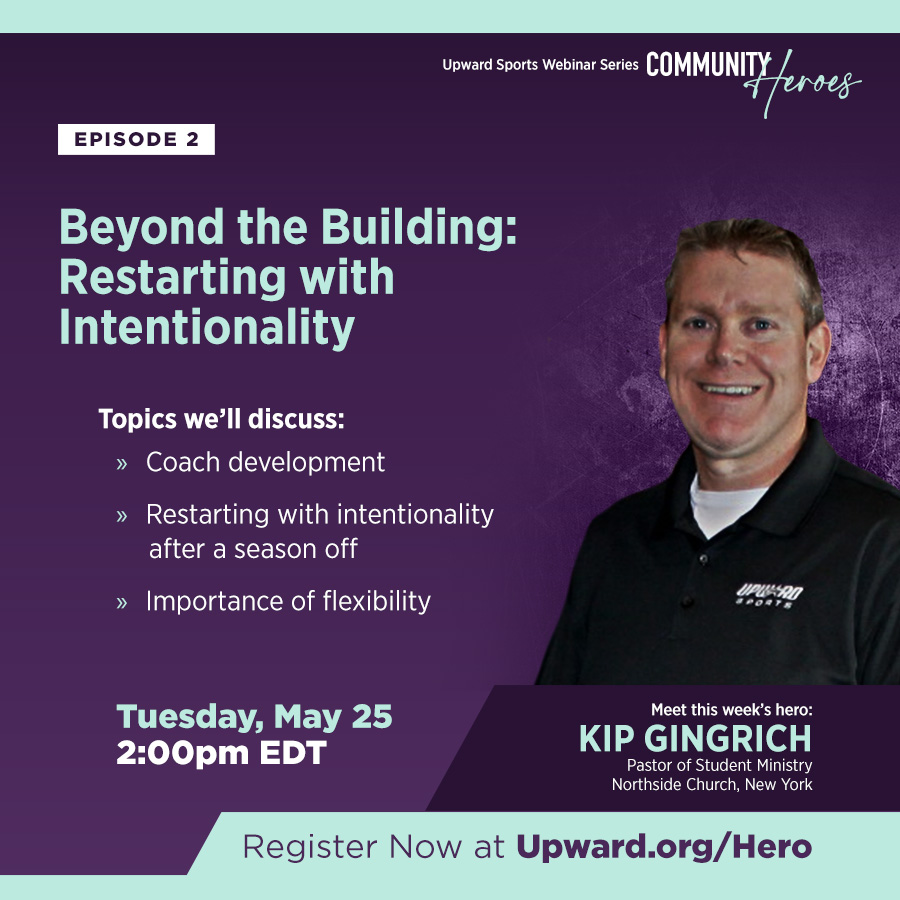 Beyond the Building: Restarting with Intentionality
with Kip Gingrich, Pastor of Student Ministry at Northside Church, New York​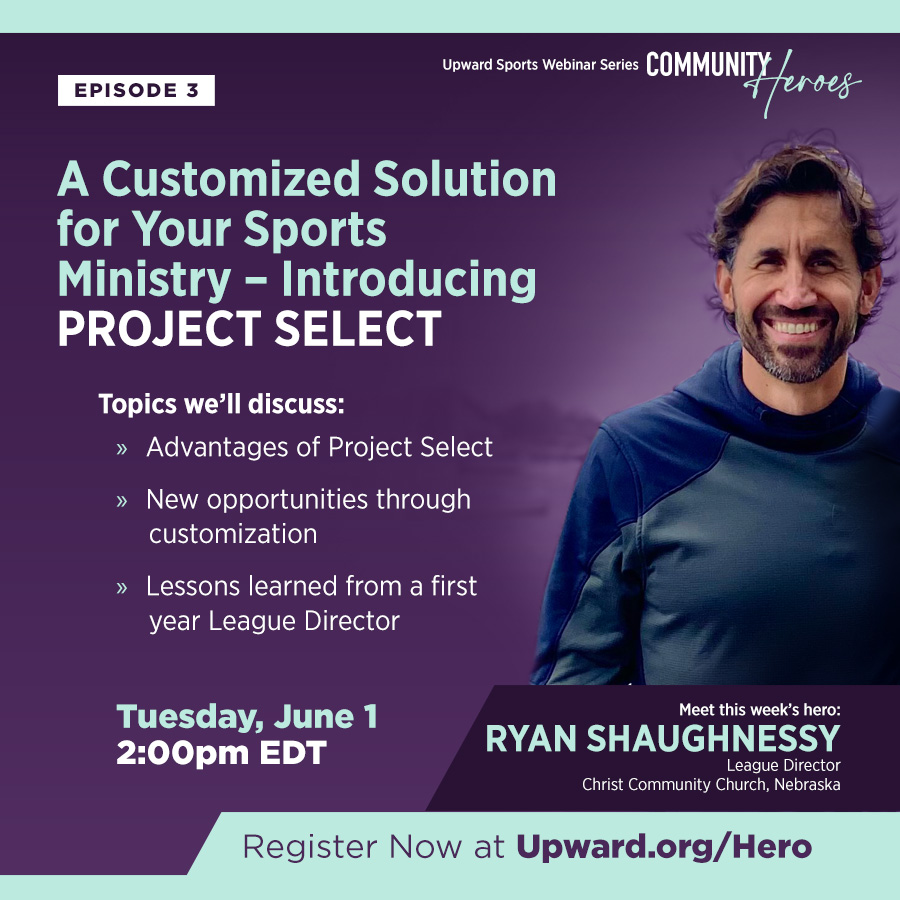 A Customized Solution for Your Sports Ministry – Introducing Project Select​
with Ryan Shaughnessy, League Director at Christ Community Church, Nebraska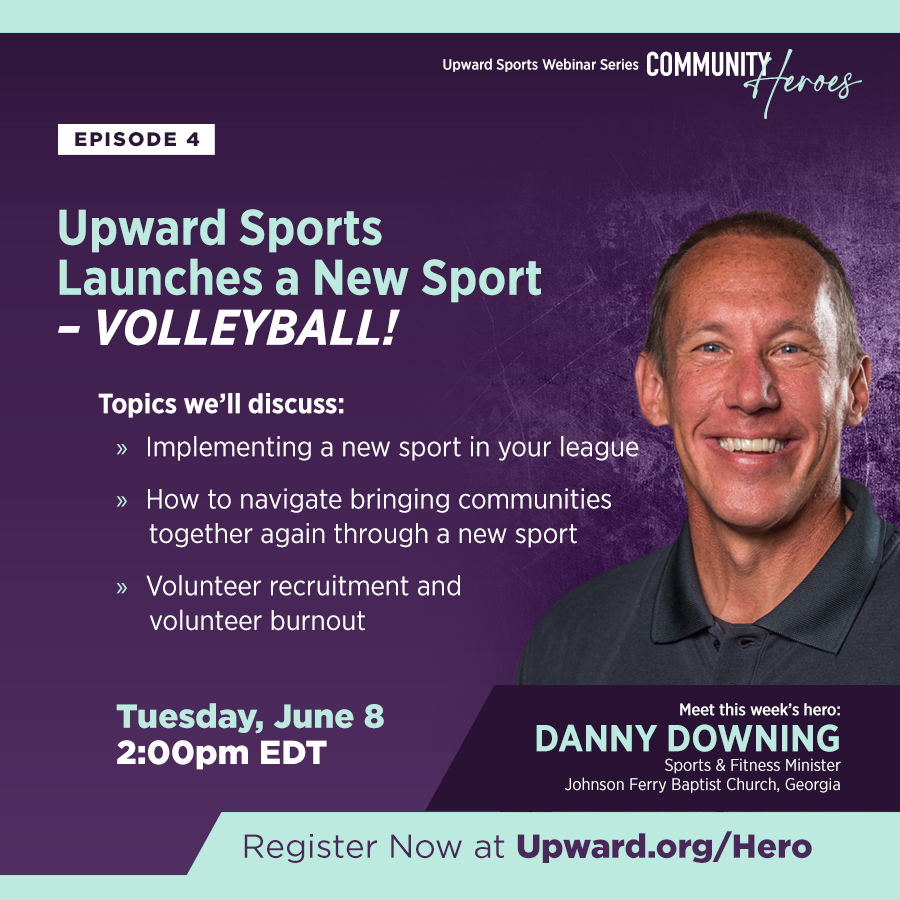 Upward Sports Launches a New Sport – VOLLEYBALL! ​
with Danny Downing, Sports & Fitness Minister at Johnson Ferry Baptist Church, Georgia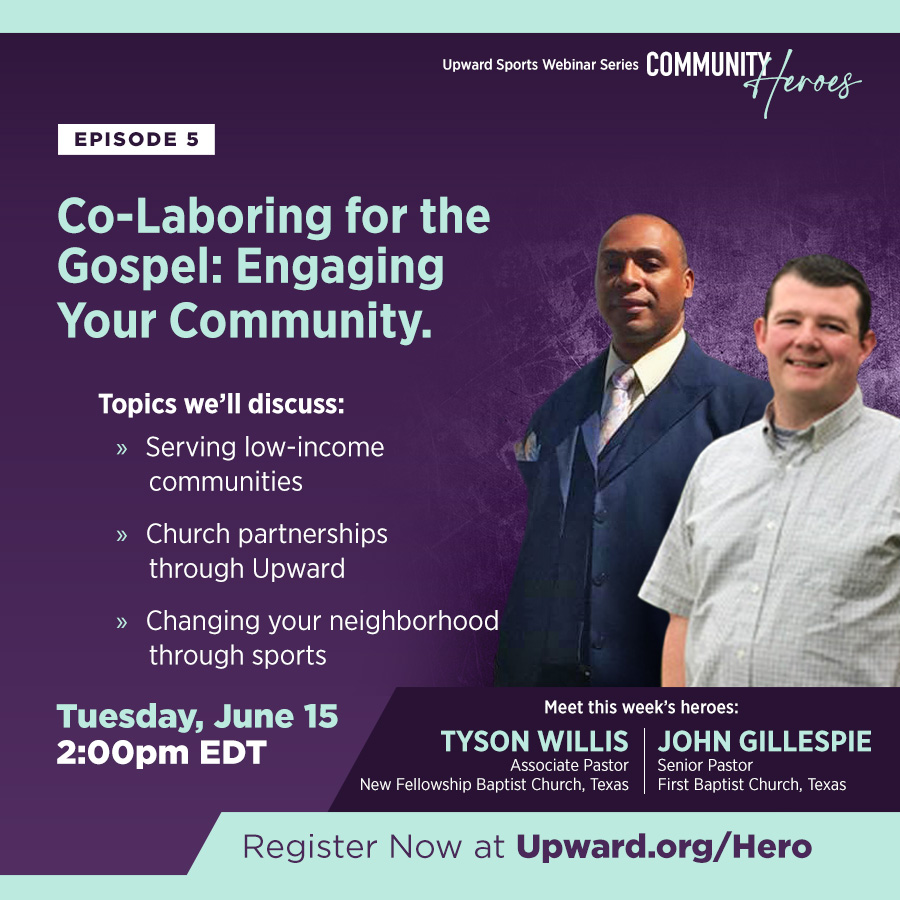 Co-Laboring for the Gospel: Engaging Your Community ​
with Tyson Willis, Associate Pastor at New Fellowship Baptist Church, Texas and John Gillespie, Senior Pastor at First Baptist Church, Texas
connect with us on social media
©2020 Upward Unlimited™. Upward® is a registered trademark of Upward Unlimited. Upward is a 501(c)(3) non-profit ministry.