What is a Community Hero?
An individual who brings their community together with an innovative approach to sports ministry while serving selflessly and inspiring life long change on and off the court. We want to celebrate these difference makers who labor in the Gospel work of making Jesus known through the power of sports.
Visibility: It's Not About a Building, It's About Service
Built in the late 1800s, Lycoming Centre Presbyterian Church was once at the center of the small town of Cogan Station, Pennsylvania. Nestled beside the Lycoming Creek, the church is tucked away from the main roads, down a small, almost single-lane street. The church grew throughout the 1950s, adding a parking lot and an additional building. However, just as the church experienced growth, so did the surrounding area. The addition of new houses and highways hindered the church's visibility to the community. However, a new opportunity and an unlikely partnership gave new, unexpected visibility to the creek-side church.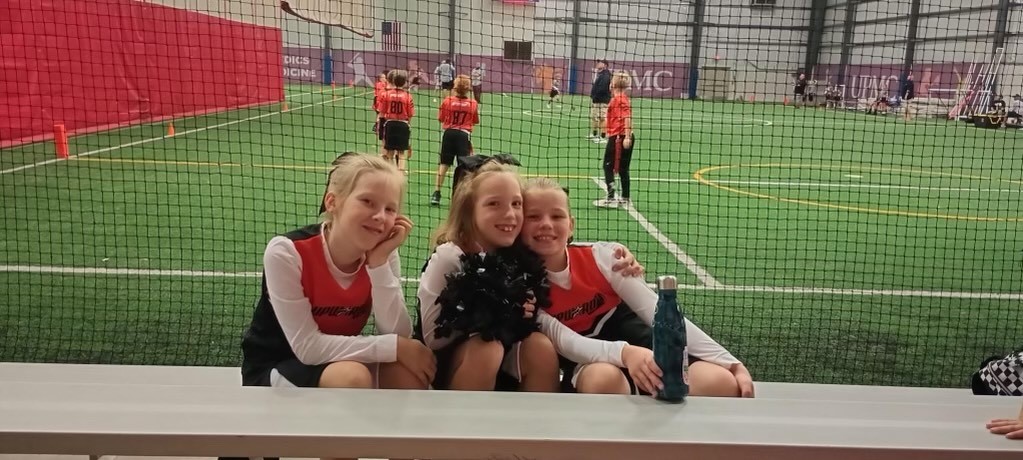 A Solution to Sunday Sports
Jerry Fourroux, the pastor at Lycoming Centre Presbyterian, first heard about an Upward League in his area about five years ago. At the time, he signed up his 1st and 4th-grade sons to play in the league and even offered to coach both of his sons' teams. As his sons returned to play, and Jerry returned to coach, he got to know League Director Mark Boyer, whose love for Upward, Jerry says, is "contagious."
Today, sports are integral to people's already busy lives. Too often, these commitments require traveling on weekends or participation on Sundays, keeping people away from church. Jerry recognized this, but he also recognized the unique solution that Upward Sports offered to the Sunday sports problem.
"This is it! We are doing it on Saturday; it's not taking up a Sunday, and it really is a ministry. I am talking to these kids about Jesus. I'm a pastor, so I get to talk to people who aren't in my pews and who don't go to my church about Jesus, so this is a win."
After several seasons, the church that initially hosted the Upward League that Jerry and his sons participated in decided to cease offering it. While the league may not have had a home, some passionate people wanted to see the league continue. Jerry's church offered to host the league, and Jerry stepped up to direct it. While the league now had a home, there was a problem – where would games take place? The church's location next to Lycoming Creek makes for a picturesque setting but also makes the area prone to flooding. As a result, holding flag football games at the church was not an option. Jerry scoured the surrounding areas, looking for a place to hold the weekly practices and games. As summer approached, Jerry worried he would not secure a location in time to start registration and conduct evaluations. He came to terms with the fact that the season may have to be put on hold for one year until the details could be worked out, but God had other plans. 
Nine miles south of Cogan Station is the town of Williamsport. Once known as the "Lumber Capital of the World," it is now better known for hosting the Little League Championship World Series every year. Also located in the town is the Liberty Arena, an 81,000-square-foot building complete with fields and courts that provide the community with an opportunity to play sports indoors. The Liberty Arena had fields available during the flag football season and was in an excellent location for the Upward League.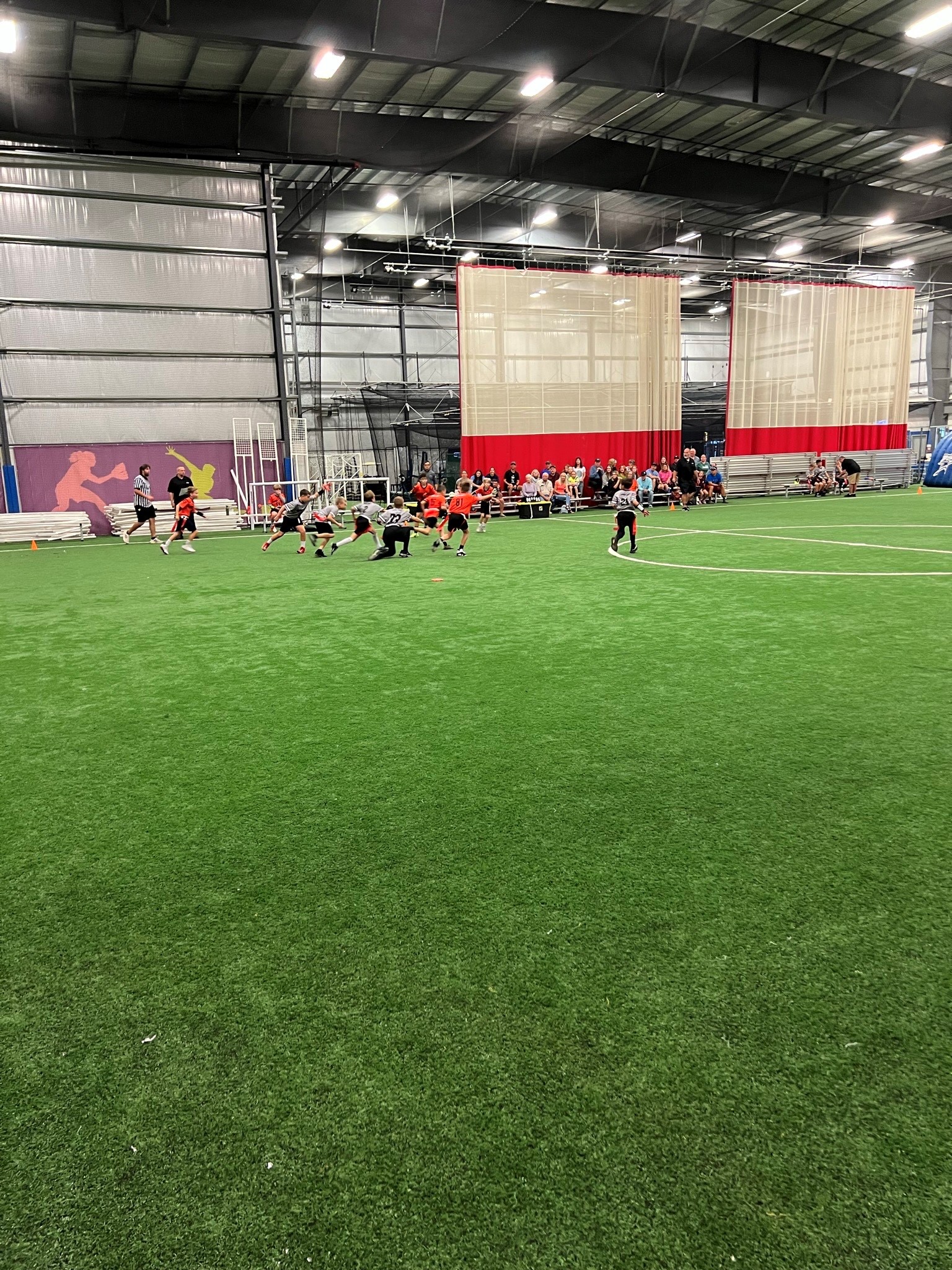 Being a league director is a whole new ball game, even for the most seasoned coaches. Though a location had been secured, there were only a few short months until the season was scheduled to start, and a lot still needed to be done. Despite coming from churches of different denominations, Mark, a Baptist, and Jerry, a Presbyterian, partnered together to ensure the flag football league continued without interruption. 
Jerry opened up about the relationship he and Mark were able to form to see the league continue with Jerry saying:
"When you focus on outreach, when you focus on mission, and loving your community, you have a lot more in common with people than history suggests, or theological beliefs suggest. That's where Mark and I really did hit it off. This is a way to love our community, and I've seen that in him and what he wants to do."
With a passion for the ministry and their communities, Jerry and Mark ensured the flag football season started on time. Through evaluations and forming teams, Mark helped Jerry every step of the way, even helping during the season when needed to ensure things ran smoothly.
Through coaching and now directing an Upward Sports League, Jerry recognizes the benefits to those who participate and those in the community. The players learn patience and teamwork from their coaches and teammates; they have opportunities to take on a leadership role on game days when helping their teammates. 
Not only has the league given kids the opportunity to learn the fundamentals of flag football while hearing the gospel, but it has also allowed others to get involved with it. Jerry realizes this is more than just a ministry to the kids involved; it is also a ministry to the adults running practices and coaching games. Through helping with the league, people who weren't avid churchgoers are attending church more often.
"We've seen the Lord work in different ways," Jerry says.
The league has also given the community visibility to the creek-side church – maybe not one they can see from the road, but one that is clearly working because of the ministry. 
"Now in the downtown, in the Liberty Arena, doing sports ministry – now it is visibility. We have people who are volunteering as refs and coaches who are demonstrating being visible in the community. It's not about a building, it's about service, it's about creating an environment and a culture where kids are learning character and sports ministry as well as trying hard and trying to win."
Written by Corrina Ramirez.
Season 2 of our webinar series is back! Titled "Community Heroes", this season's webinar series from Upward Sports will provide invaluable information to church leaders, sports directors, and volunteer leaders on how local churches are changing the game by creating customized sport experiences, offering new sports to their communities, and utilizing the improved technology, all offered through Upward's new initiative called Project Select. Hear stories from Upward church partners across the country who are bringing their communities together in innovative ways through their sports ministry. We hope that this series inspires and encourages others to continue to labor in the Gospel work of making Jesus known through the power of sports.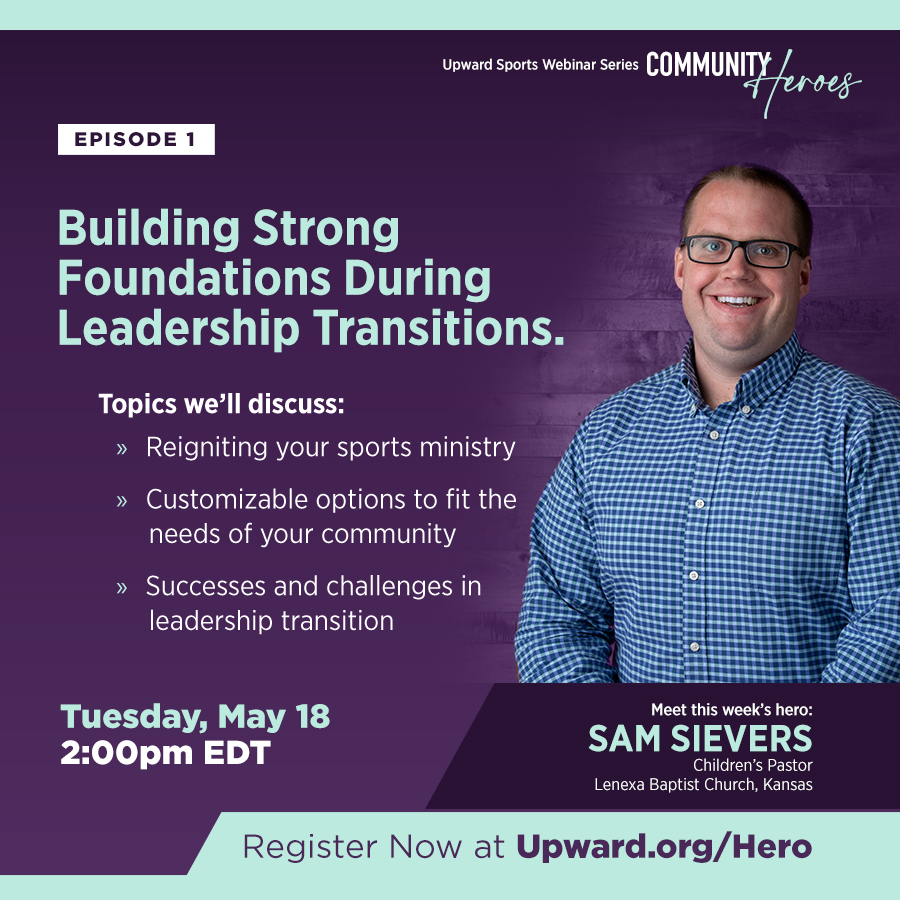 Building Strong Foundations during Leadership Transitions
with Sam Sievers, Children's Pastor at Lenexa Baptist Church, Kansas​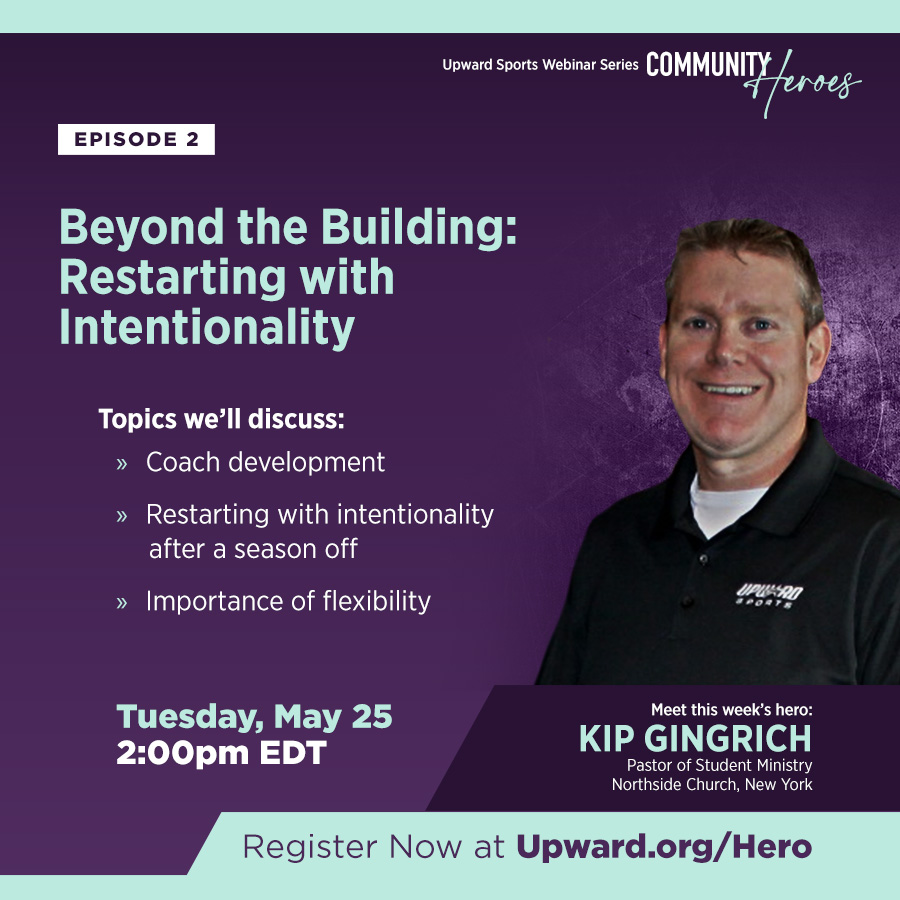 Beyond the Building: Restarting with Intentionality
with Kip Gingrich, Pastor of Student Ministry at Northside Church, New York​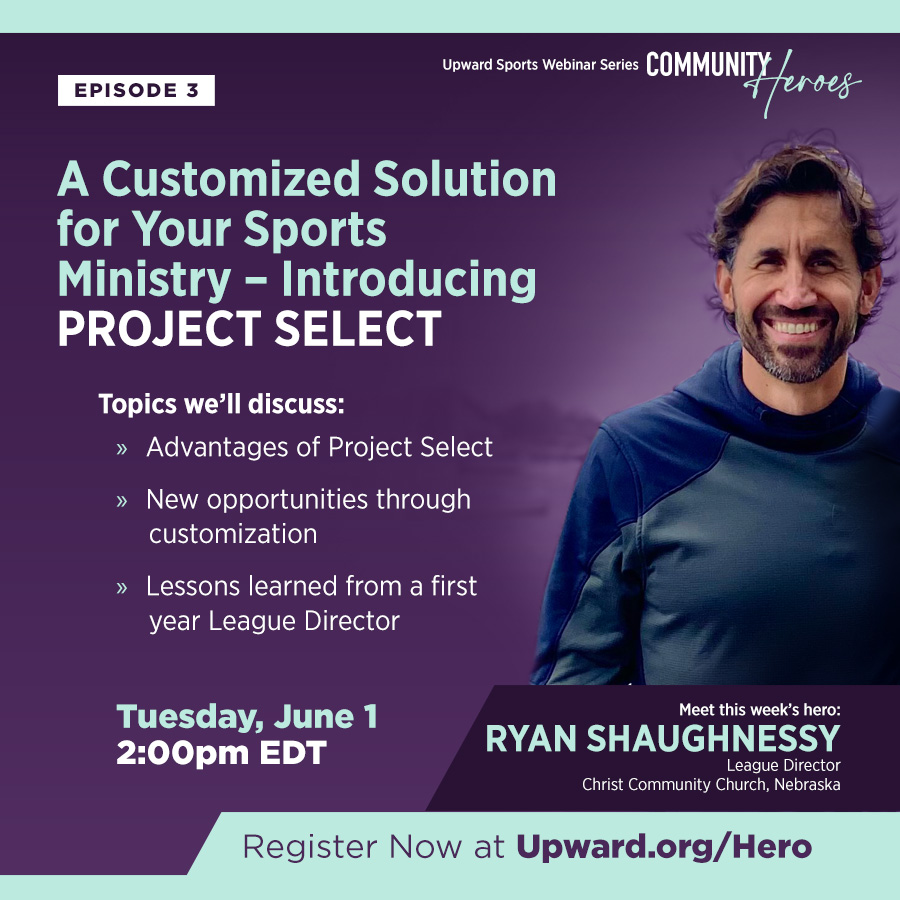 A Customized Solution for Your Sports Ministry – Introducing Project Select​
with Ryan Shaughnessy, League Director at Christ Community Church, Nebraska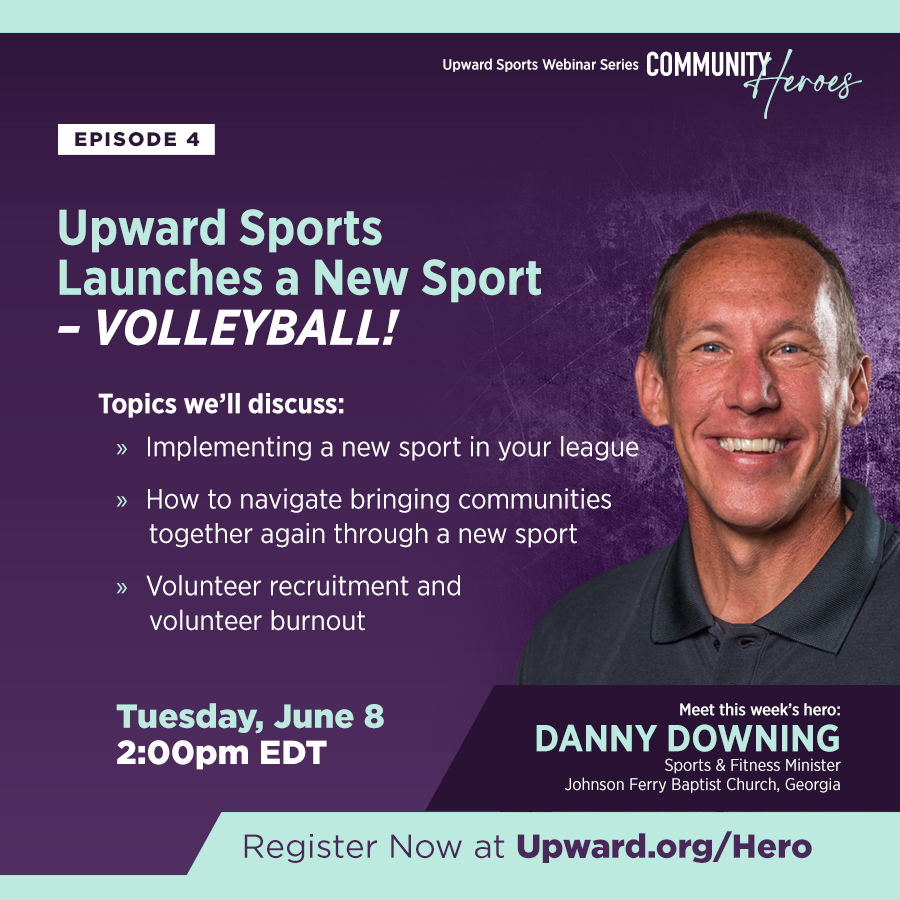 Upward Sports Launches a New Sport – VOLLEYBALL! ​
with Danny Downing, Sports & Fitness Minister at Johnson Ferry Baptist Church, Georgia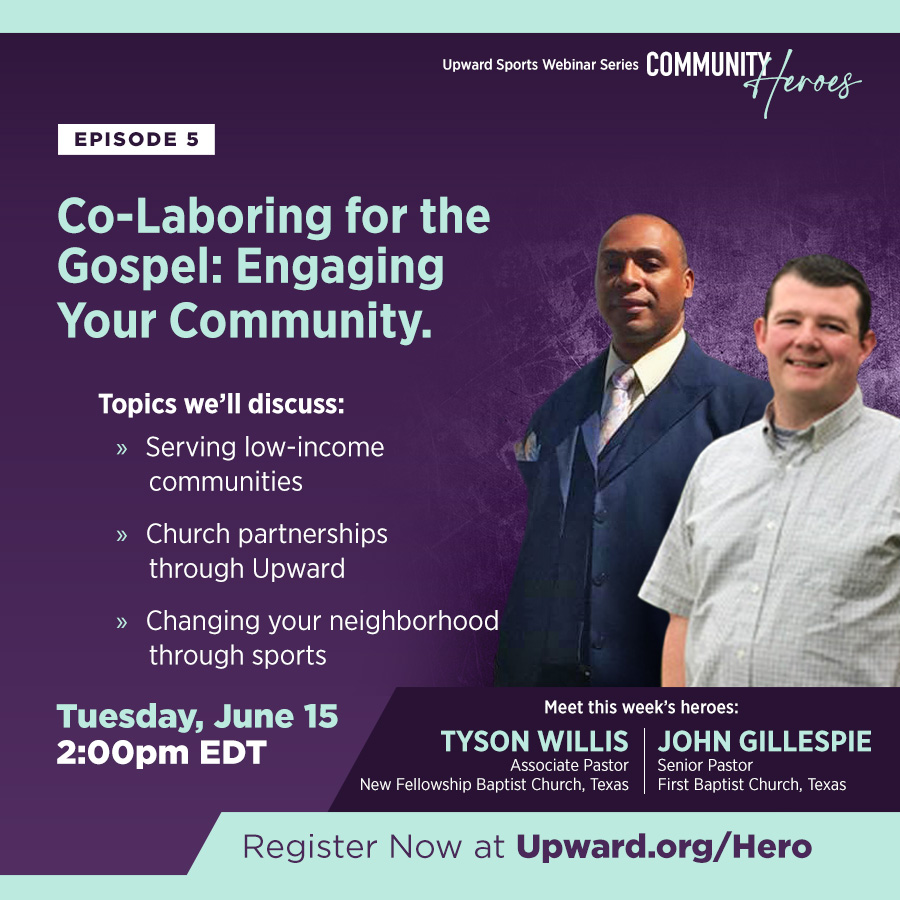 Co-Laboring for the Gospel: Engaging Your Community ​
with Tyson Willis, Associate Pastor at New Fellowship Baptist Church, Texas and John Gillespie, Senior Pastor at First Baptist Church, Texas
connect with us on social media
©2023 Upward Unlimited™. Upward® is a registered trademark of Upward Unlimited. Upward is a 501(c)(3) non-profit ministry.