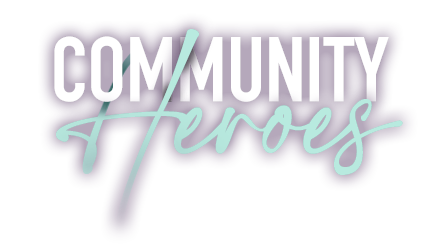 Bringing communities together through sports.
What is a Community Hero?
An individual who brings their community together with an innovative approach to sports ministry while serving selflessly and inspiring life long change on and off the court. We want to celebrate these difference makers who labor in the Gospel work of making Jesus known through the power of sports.
Meeting the Needs of Your Community through Sports
As a child growing up in Greensboro, North Carolina, Kyle Oakley regularly organized sports games in his front yard with the other neighborhood kids. Now, as an adult, Kyle leads a sports ministry in that same neighborhood, serving kids from across Greensboro. Kyle still believes what he learned as a child: that sports have an incredible power to connect people.
As Lebanon Baptist Church's Recreational & Adult Discipleship Director, Kyle runs the church's Upward basketball/cheerleading, soccer, and volleyball leagues—with a baseball and softball league coming soon. Kyle believes there's no better way to reach the people in his community with the love of Jesus than through sports ministry. "Our community loves sports," Kyle says, "and they play sports somewhere every season. So why not be able to offer them the chance to play here? Then we also get to share the gospel with them at the same time."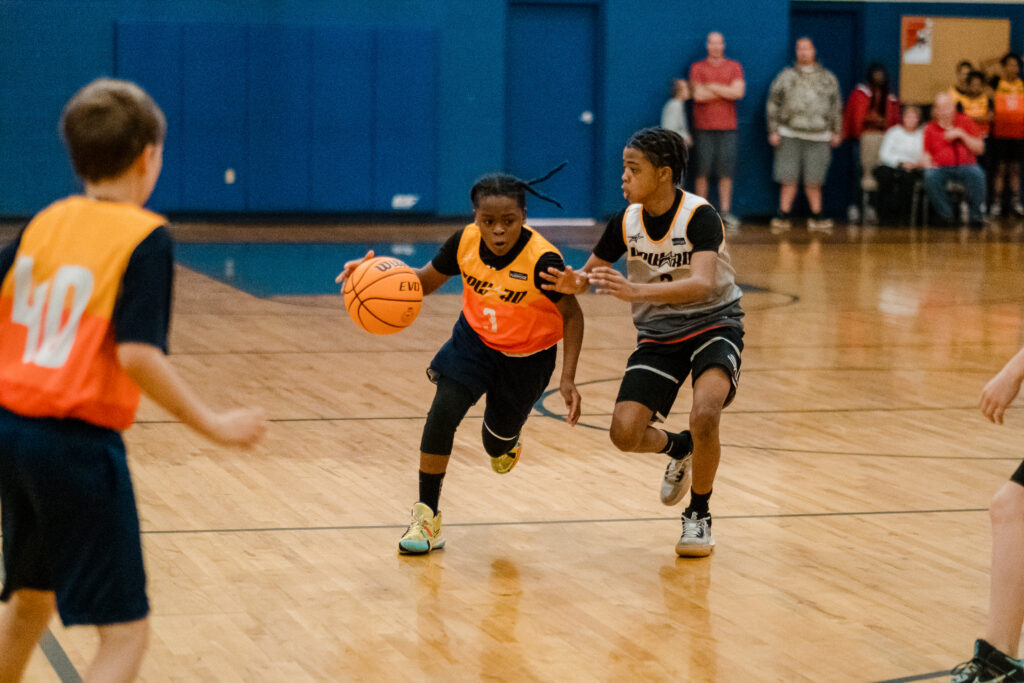 Sports ministry is an opportunity for churches to fill a gap in the community as recreational youth sports leagues decline in favor of more intensive club and travel teams. In Greensboro, the two large sports organizations that served the community while Kyle was growing up no longer exist. Through their Upward leagues, Lebanon gives kids the opportunity to still play quality recreational sports.
Kyle says, "People I went to high school with are bringing their kids to play sports in the same area that we grew up in playing sports."
Lebanon takes this opportunity seriously. They want their programs to stand out from other youth sports leagues.
"We want to be different," Kyle says. "We want to set aside ourselves from that worldly view of sports and how it's taken shape right now with the culture of 'me, me, me.' We want to turn it into a culture where it's all about the team and it's all about sharing Jesus Christ and Christian principles."
"Families see it as different than other sports organizations where it's all about winning and winning as big as you possibly can. They see that we don't focus just on that one thing. We focus on a fully-rounded experience of developing socially, intellectually, and spiritually . . . I really think that's where parents see the value in it."
Listening to the Community
Lebanon has served their community through Upward basketball for fourteen years. After Kyle began volunteering in the league, he suggested they add other sports to make it a year-round ministry. The church kicked off their Upward soccer league four years ago and will start their second season of volleyball soon. Kyle himself has been in his role on staff at the church for four years now. He and Lebanon's leadership team are always looking out for the needs in their community and for how they can make the Upward experience even better for families.
Kyle says, "We've been so successful because of our willingness to really reach out into our community and find out what they need and what they're looking for in a sports program, and then be able to provide it."
Spiritual emphasis is key to sports ministry. Practice and halftime devotions allow Lebanon's volunteers the opportunity to teach the young athletes about Jesus. Strong relationships with players and their families make room for evangelism and discipleship to flourish.
Through Lebanon's Pray for a Player initiative, church members adopt families in their Upward programs to pray for, encourage, and get to know. They'll come and sit beside parents at games and build connections with them.
"Those things really help to build those relationships," Kyle says. "And relationships are what's important about making a successful program. We could let everybody show up and play basketball every Saturday, but if it's not well-organized and spiritually connected and built on loving relationships, it's going to be like everywhere else."
Kyle says he measures the success of their ministry by the families who come back and continue to play sports at Lebanon season after season. When people return, it shows that what Lebanon is doing is making an impact.
"Ultimately, our goal is to plant the seed of the gospel of Jesus," Kyle says. "And if they're continuing to come back to play season after season, we're planting that seed for them."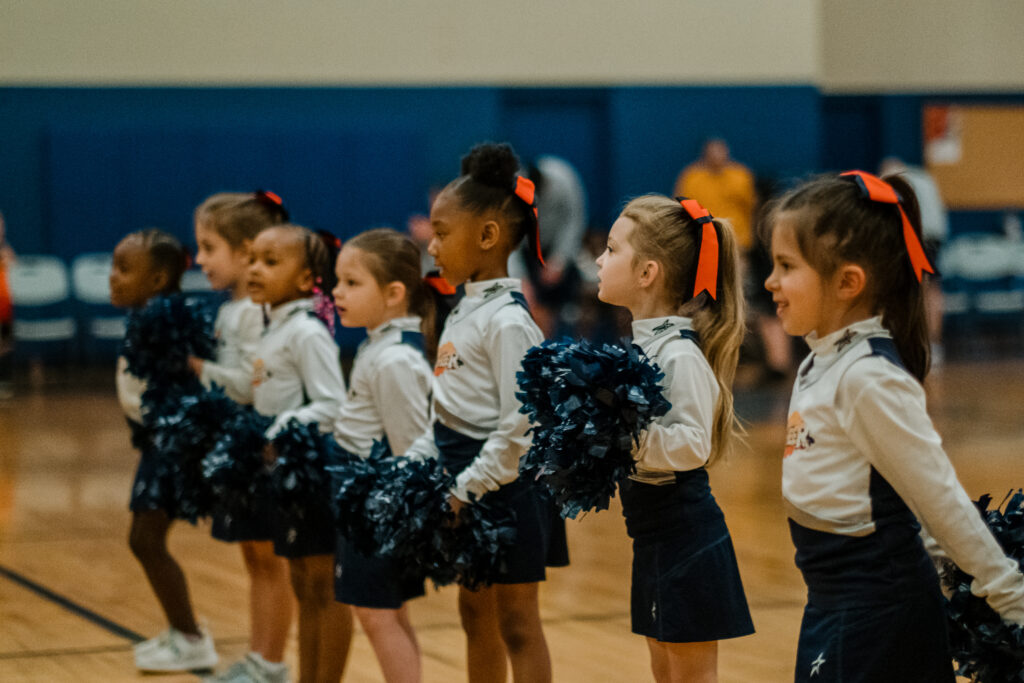 Lebanon partners with Upward Sports because the resources allow Kyle and his volunteers to focus on relationships, spiritual connections, and providing a great sports experience.
"The things that we get from Upward are far more valuable than the money we would make if we went out on our own," says Kyle. "Name recognition, registration, uniforms, communication tools, resources. The ease of being able to use the Upward system. The spiritual element of having devotions already prepared for you . . . You can trust that things are done right. You don't have to spend time doing those things; you can spend time focusing on relationships and making sure the operational side of things is done well."
Kyle strongly encourages churches to take a chance on sports ministry.
"I say to any church that has a gym facility or a spare piece of grass, why are you not already doing something? . . . Even if you don't have those things, is there a local school nearby that would allow you to use their facility? Most communities are dying for a sports program just to be able to offer their kids a place to go play sports that doesn't break the bank, that doesn't require a year-round commitment, and that doesn't require four or five practices in a week and a whole weekend of traveling."
Sports ministry is a huge opportunity for churches to meet needs of their communities and help people connect to Jesus. As for Kyle, the guy who used to organize games in his front yard still wants to get people playing sports—but now for a greater purpose.
"Sports ministry is our biggest outreach ministry that we have," Kyle says. "Because our community speaks that language of sports, it gives us a natural connection with them. And I think that's probably true of most communities around the country."
"When we can do the little things well," says Brad, "that just shows that we're here and that we care. It seems to go a long way."
Brad Habegger, Grace Church, Morton, IL
"The more opportunities we have for people to connect, the greater the chance of being able to share the gospel with them and their family."
Jimmy Moneypenny, Second Baptist Church, Warner Robins, GA
Memphis Baptist Church has been running Upward leagues for more than 20 years, but in 2018, they stopped offering their flag football and cheerleading league to focus solely on their basketball and cheerleading league.
Jason & Amy Wright, Memphis Baptist Church, Dothan, AL
Concerts, food outreach, and rummage sales all took place there, but the church had never used the space for sports. Nate, an athlete at heart, knew there was an opportunity for something more.
Nate Blanchard, Chapel Hill Church, Brighton, CO
Ray never considered making an impact beyond the crops he sold each harvest to provide for his wife and little girl. Until one evening working in those very fields, he heard a voice whisper to him a simple phrase. "If you build it, he will come."
Bill Gallahair + Dave & Kim Hicks, Harvest Fields Community Church, Deatsville, AL
Achieving the goal of becoming debt-free is worth celebrating for any church. But if you were to ask senior pastor Travis Osborne, he'd quickly tell you Valley Christian's ministry extends well beyond the walls of the sanctuary.
Matt & Candice Carter and Travis Osborne, Valley Christian Fellowship Church, Redding, CA
Summerville Baptist's basketball league has been thriving, celebrating its 25th season in 2022. John admits it hasn't always been easy … but the reward of families coming to the gym to hear about Jesus, outweighs all obstacles.
John Lybrand, Summerville Baptist Church, Summerville, SC
Children with ADHD. Children with dyslexia. Children with autism. Children with Down Syndrome. Jesus welcomed them all.
Vinh Nguyen, Cornerstone Church, Grand Island, NY
"I had some awesome chaplains in pro-ball who would say 'Don't be surprised if God calls you into ministry one day."
Brent Leach, First Baptist Church, Brandon, MS
"To say 2020 was a trying year for many churches would be a massive understatement."
Darrin Worthington & Mary Jordan, Trinity Baptist Church, Lake Charles, LA
"Reaching a Community for Christ with Excellence!"
Alan Royalty, First Baptist Church, Alpharetta, GA
"Making Bigger the Family of God."
Joel & Katie Stevens, Sherwood Oaks Christian Church, Indiana
"Utilizing Sports to Support P.E. in Christian Schools"
Brent Jenson, Angleton Christian School, Texas
Hear directly from experts in the fields of disease control, hygiene, communications, mental health and more to gain invaluable information about safely and thoughtfully reconvening in your community as shelter-in-place requirements are lifting.
Season 2 of our webinar series is back! Titled "Community Heroes", this season's webinar series from Upward Sports will provide invaluable information to church leaders, sports directors, and volunteer leaders on how local churches are changing the game by creating customized sport experiences, offering new sports to their communities, and utilizing the improved technology, all offered through Upward's new initiative called Project Select. Hear stories from Upward church partners across the country who are bringing their communities together in innovative ways through their sports ministry. We hope that this series inspires and encourages others to continue to labor in the Gospel work of making Jesus known through the power of sports.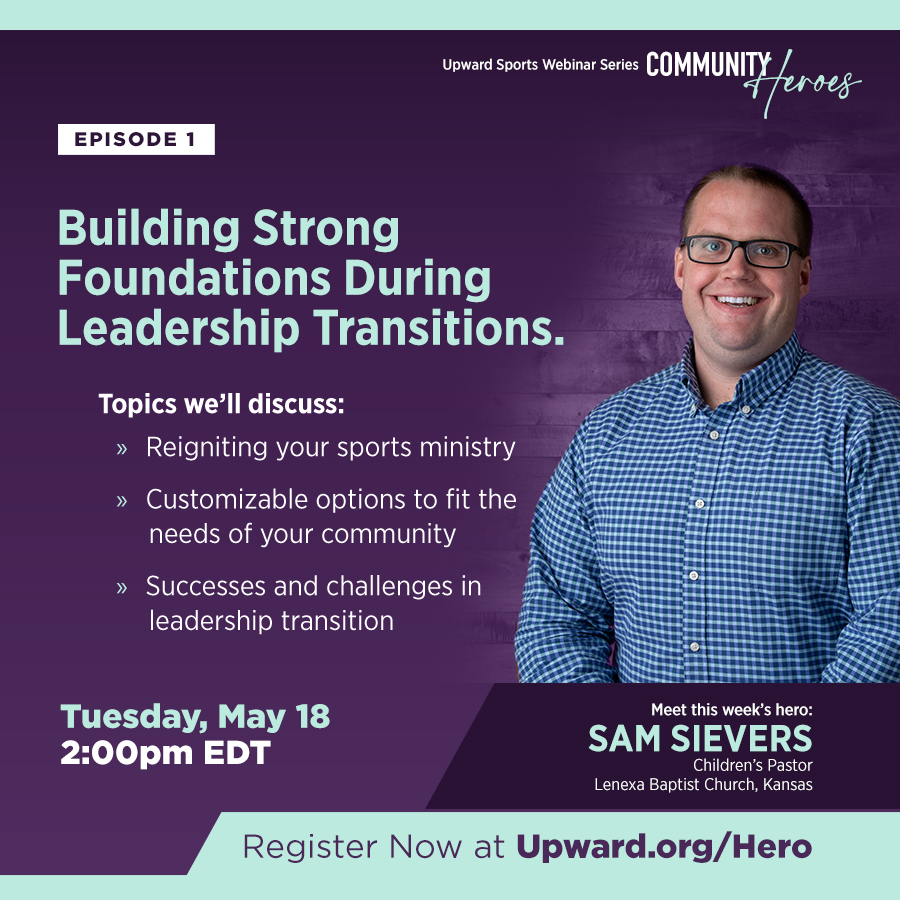 Building Strong Foundations during Leadership Transitions
with Sam Sievers, Children's Pastor at Lenexa Baptist Church, Kansas​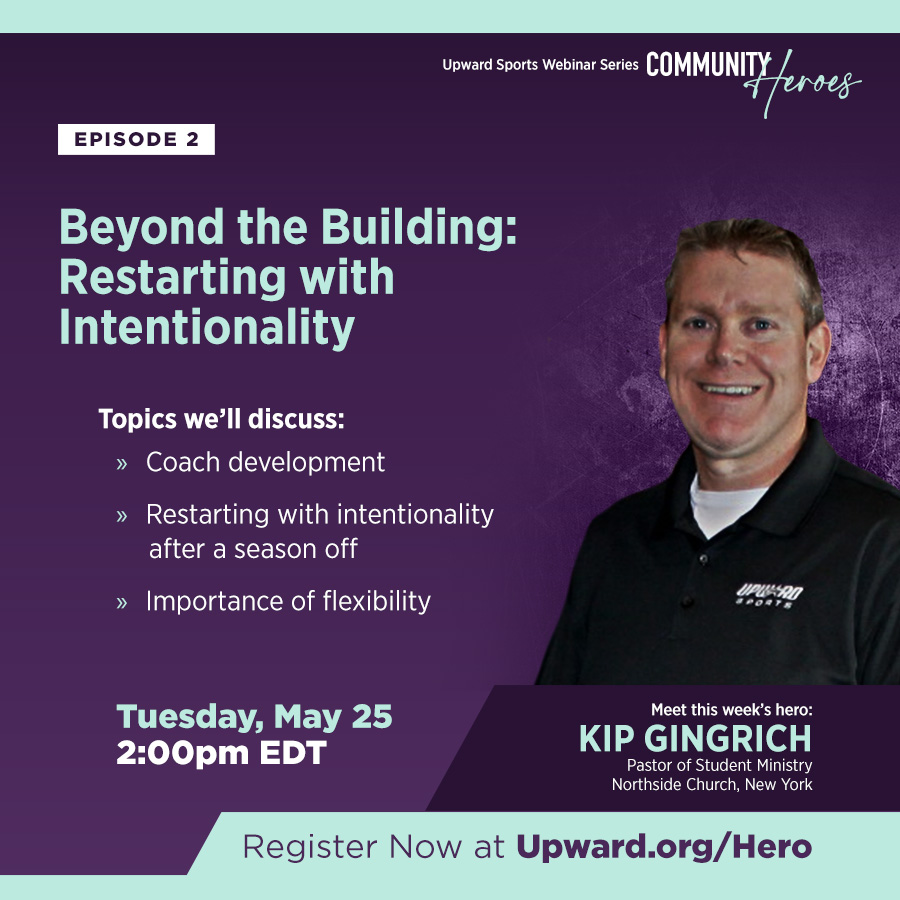 Beyond the Building: Restarting with Intentionality
with Kip Gingrich, Pastor of Student Ministry at Northside Church, New York​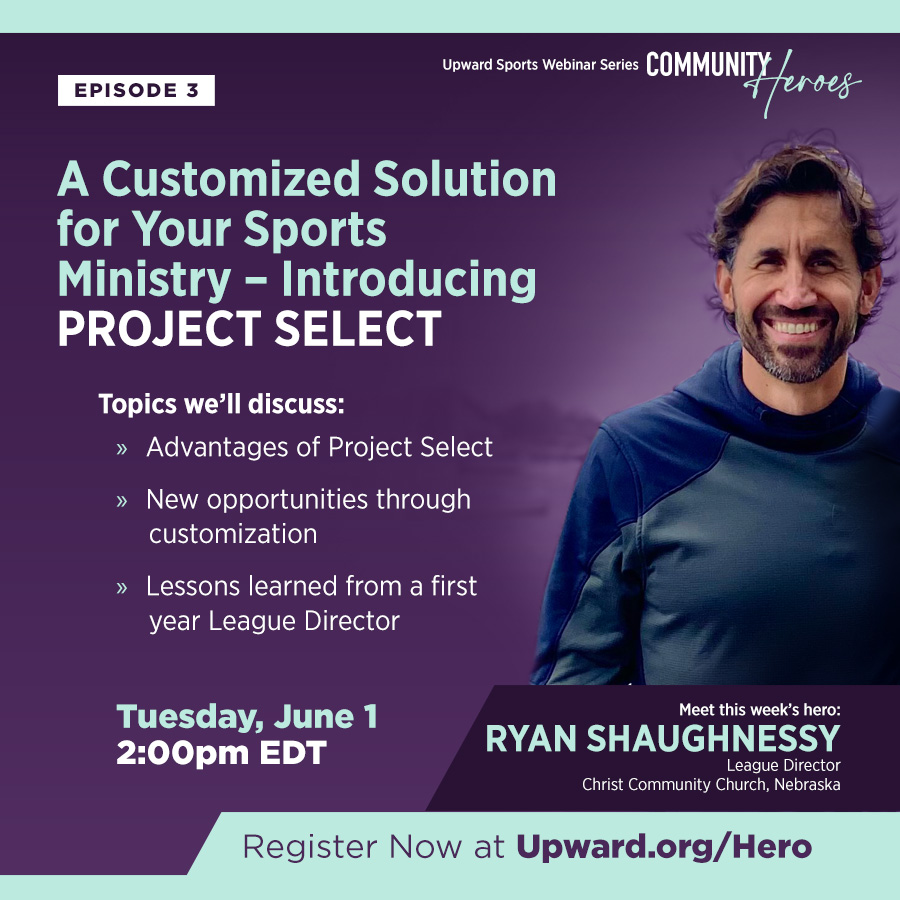 A Customized Solution for Your Sports Ministry – Introducing Project Select​
with Ryan Shaughnessy, League Director at Christ Community Church, Nebraska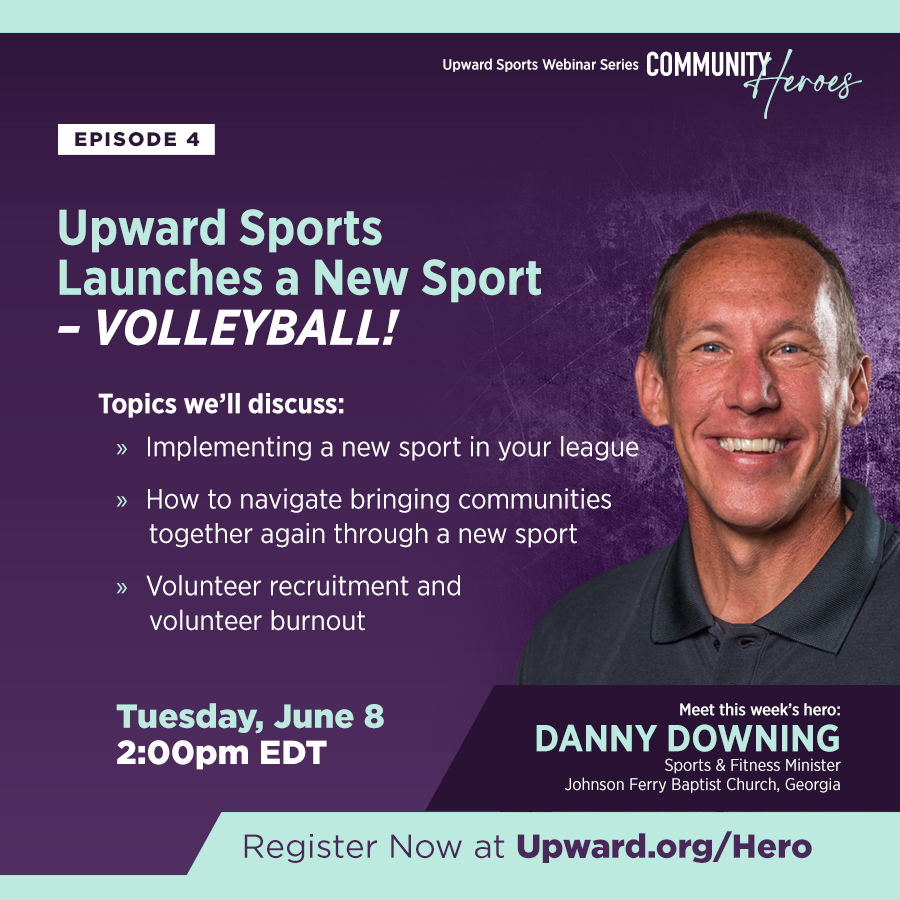 Upward Sports Launches a New Sport – VOLLEYBALL! ​
with Danny Downing, Sports & Fitness Minister at Johnson Ferry Baptist Church, Georgia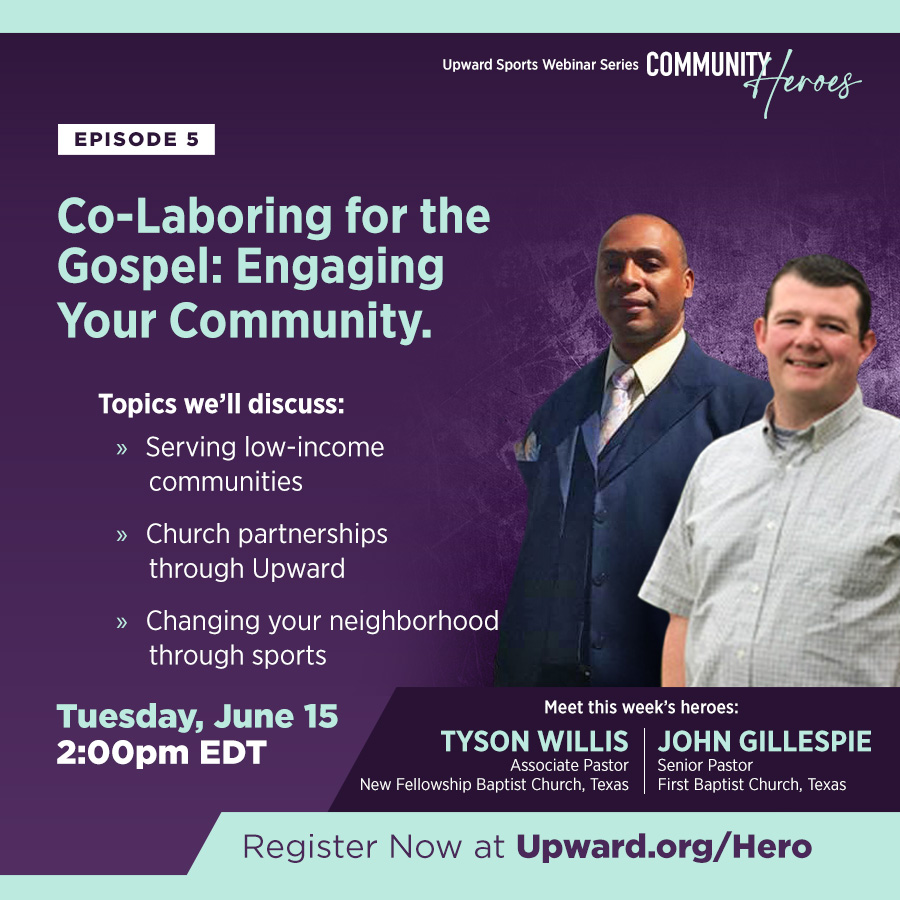 Co-Laboring for the Gospel: Engaging Your Community ​
with Tyson Willis, Associate Pastor at New Fellowship Baptist Church, Texas and John Gillespie, Senior Pastor at First Baptist Church, Texas
connect with us on social media
©2023 Upward Unlimited™. Upward® is a registered trademark of Upward Unlimited. Upward is a 501(c)(3) non-profit ministry.