Shining a Light on Teamwork and Innovation
In Dothan, Alabama, sports ministry is truly a community affair.
Memphis Baptist Church has been running Upward leagues for more than 20 years, but in 2018, they stopped offering their flag football and cheerleading league to focus solely on their basketball and cheerleading league. Now, in fall 2022, they're bringing competitive flag football and cheerleading back to Dothan's south side. But this time, it will look a little different.
Just four miles down the road from Memphis is their sister church, Bethel Baptist. The two churches partner in ministry and even have an annual Thanksgiving service together. But for several years, they were both offering Upward basketball. It began to feel like a competition between the two churches for participants.
This year, Memphis and Bethel decided to take their partnership to a new level. Bethel will continue to offer Upward basketball while Memphis brings back flag football. Both churches are contributing volunteers to both leagues. They are combining their sports ministry efforts for a higher goal.
With the partnership in place, Jason and Amy Wright, league directors at Memphis, also spearheaded moving games from Saturdays to Thursday nights. With lingering heat during the day and many families focused on college football on Saturdays in the fall, the number of participants in the league had been dwindling when Memphis originally decided to pause the sport. Saturdays were not ideal for games.
Jason recalls, "Upward football had always been done on Saturdays. And I'm the person that's like, 'Let's be different. Let's change it. What if we moved it to the week?'"
Jason and Amy knew it would be better to have both games and practices on weeknights. But how would that work when their football fields had no lighting? 
The solution came from within Memphis' own congregation. Brad Kimbro, COO of Wiregrass Electric Cooperative, is a church member, along with Bobby Camp, who owns JM Electric Supply Company. Both companies donated poles and resources to install lighting on the football fields. Also, the church allocated funds to help pay for the services to be run. This incredible generosity shows the level of support this program has in the church and in the community. Now, when the kids run out on the fields to play in a game on Thursday nights, it will feel like a real football game.
"We have a church member, (Daniel Huff) that is also a DJ, who volunteers his time and that's going to be out there every night," Jason says. "The kids will run out through smoke and lights. I want it to be high-energy. I want it to be a fun and meaningful atmosphere."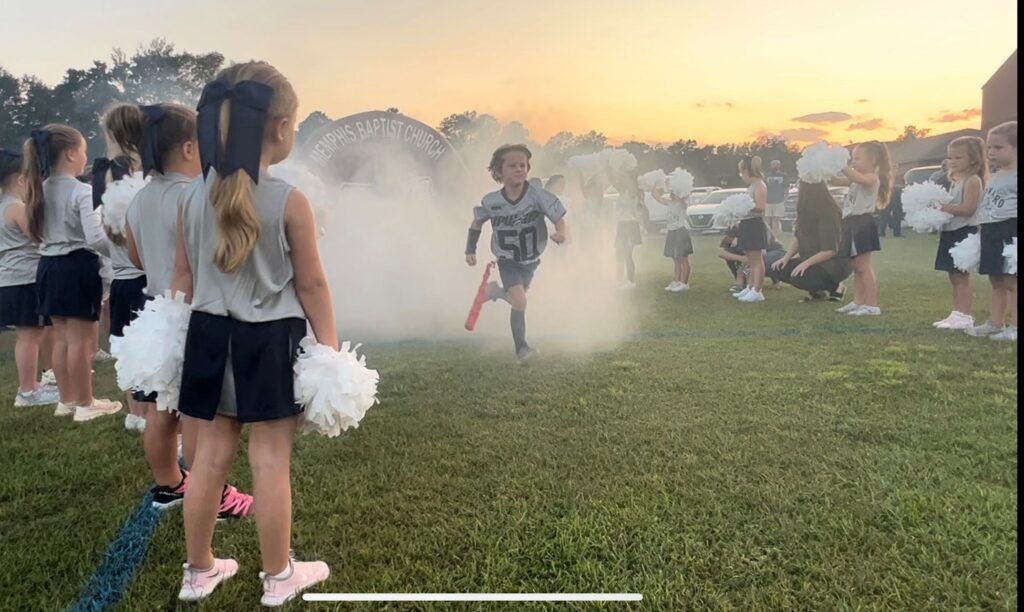 Halftime devotions will be pre-recorded and played on an inflatable screen so spectators can easily see and hear them. This season, those devotions will include video testimonies from some of the coaches. It's another way the Wrights have decided to be different and try something new.
"At the end of the day," Jason says, "We're using football to get people in to teach them the love of Christ. So, I want to make the atmosphere and everything around it something that people want to be a part of."
Registration numbers are higher for this season than they were in 2017, even though there are now more flag football leagues in the Dothan area. Most participants aren't members of Memphis. The league is set up for an exciting return season.
Jason says, "We can look around our church right now and see probably 30 families that are members, that have been at our church for years, and they came in through Upward. And those are some of our biggest proponents of doing what we have to do to keep this ministry alive."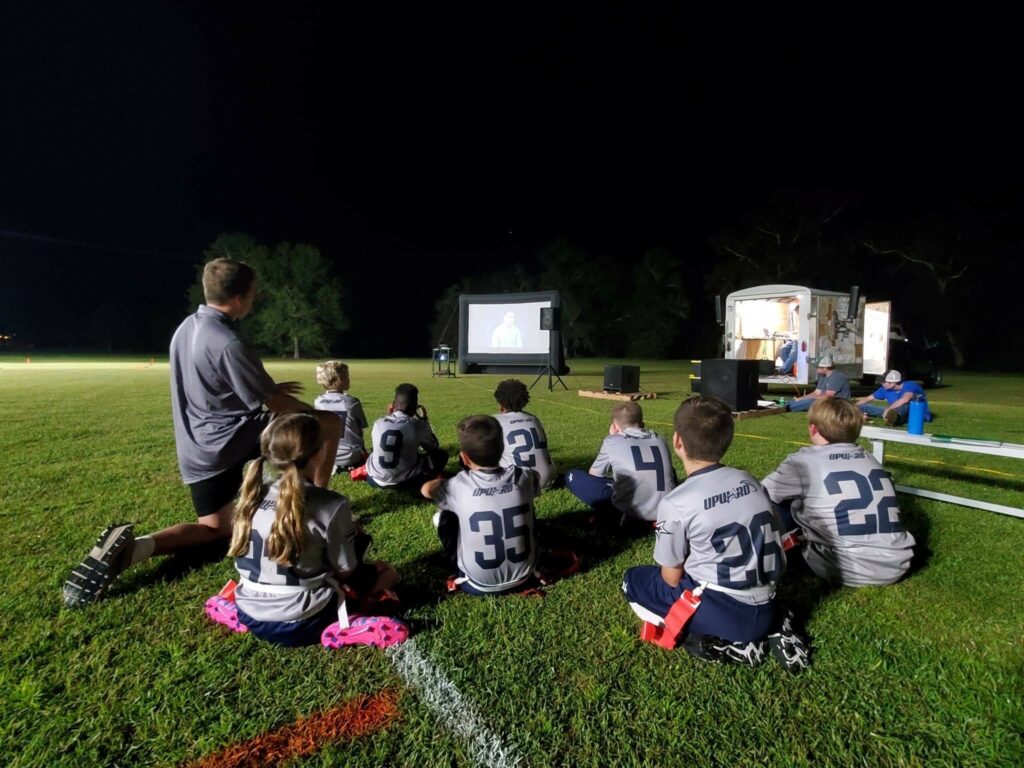 From their partnership with Bethel to local companies making it possible for the fields to have lights, it's easy to see how the community around Memphis has rallied around this program. But the high level of investment from their own congregation has also been telling.
"It has been a whatever-it-takes approach," Jason says. He points to photos from when Memphis previously ran their flag football league. "This kid right here is now coaching with his parents. That's him ten years ago." He points to other kids who are now coaching. "It's ten years later, and their parents are still involved . . . The kids I coached are helping me."
Memphis also has a church staff that is very committed to the Upward program. This will be the first year that their senior pastor has not coached a team—because he's serving as a referee instead. Every staff member participates in this ministry.
What inspires this level of buy-in? It's not about trying new things just to try new things. It's about teaching the game of football—but, most of all, it's about teaching who Jesus is, what He did, and what He can do. It's about showing the love of Christ to the kids and families who participate in this league.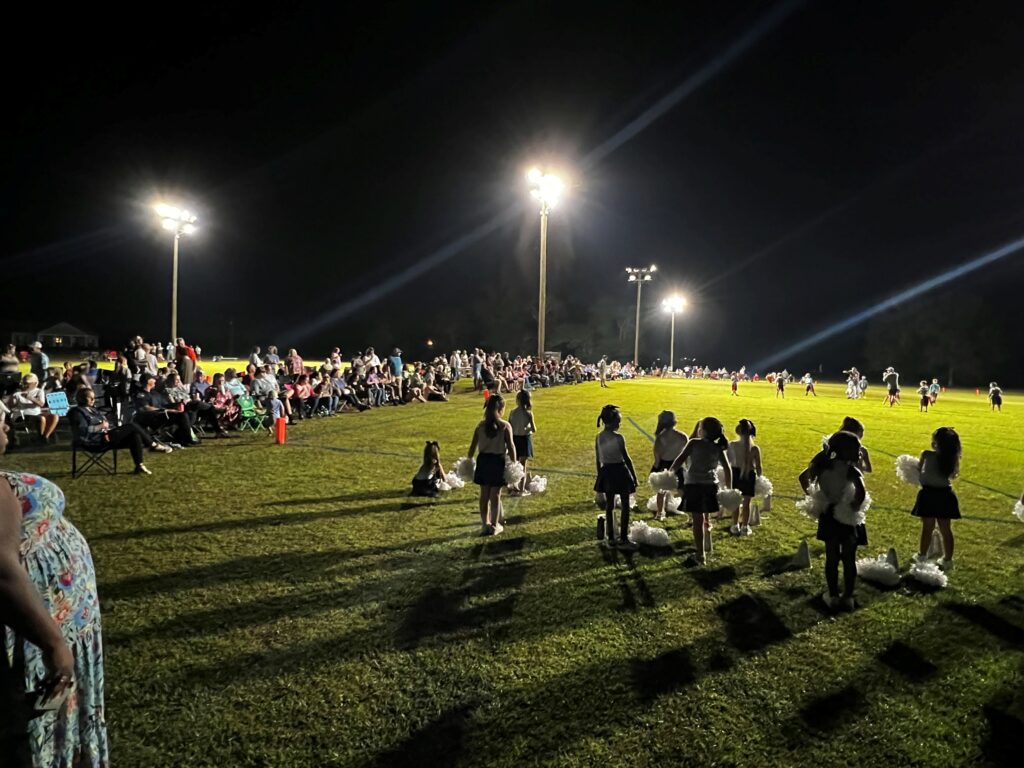 "If we lose that, we might as well turn the lights off, cut the poles down, and not do anything else on that field," Jason says. "We've seen people come to Christ and join our church because of this ministry. But even if you don't go to our church, we're planting seeds and sending you back out. We're teaching the love of Christ . . . We're teaching compassion to these kids and sending them home, sending them back out into the community, sending them back out into their schools. That's what drives us."
This season, young athletes will play under the lights at Memphis Baptist Church for the first time. But the impact of these moments will keep shining long after they've left the field. That's what happens when a community comes together to be different in order to make a difference.
connect with us on social media
©2023 Upward Unlimited™. Upward® is a registered trademark of Upward Unlimited. Upward is a 501(c)(3) non-profit ministry.