As the CDC continues to provide timely information related to the COVID-19 pandemic, for the most recent updates, please see their website here:
The health and safety of the children and families participating in Upward Sports is our top priority. As we continue to monitor the spread of the coronavirus in the U.S., we advise League Directors to closely observe the recommendations of their church leadership and their local public health and educational agencies for guidance on the best course of action to take in their communities.

Our goal is to be a trusted ministry partner so anything we can do to come alongside you during this challenging time is truly at the center of our desired activity. We encourage you to contact us with any questions or concerns, including any conversations around potentially modifying your Upward Sports experience schedule:
Most importantly, we are reminded that the Lord is sovereign over all things, including COVID-19. Our peace and strength is in Christ, and we have a unique opportunity when facing difficult battles like this. God tells us over and over in Scripture to not be afraid or discouraged because He will be with us (2 Chronicles 20: 15-17).

We can trust Him to protect us, bring healing, and empower us to share the good news of "life that is truly life" (1 Timothy 6:19) with our friends and family members who may be affected in some way by this crisis.We realize that making difficult decisions to modify the scheduling/conducting of Upward Sports Programming may be the right next step for some churches, and we fully support those determinations.
Please continue to join us in prayer as together we place our trust and confidence in the hope of the gospel of Jesus Christ!
"…for God gave us a spirit not of fear but of power and love and self-control." – 2 Timothy 1:7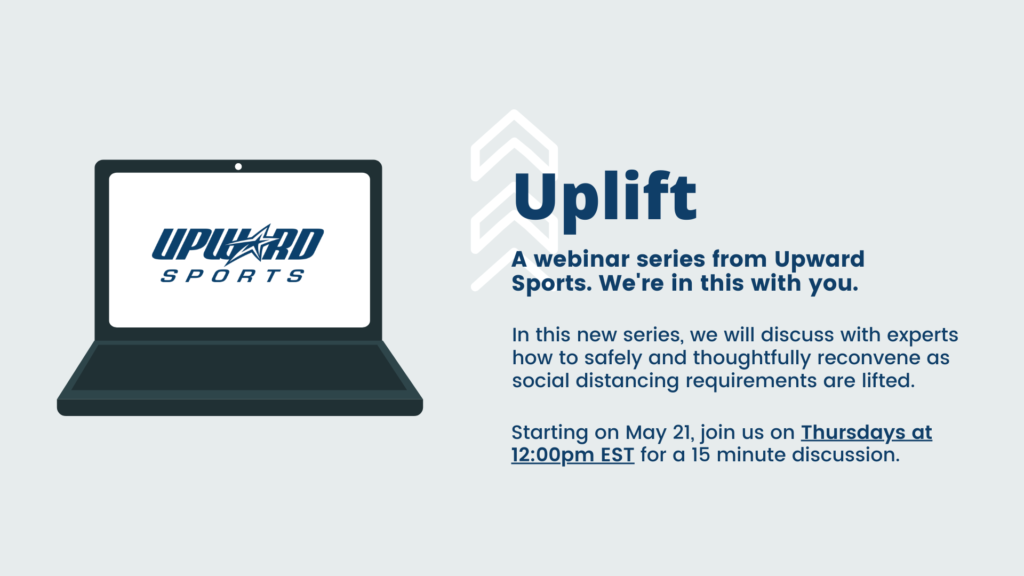 Introducing Uplift: A Webinar Series from Upward Sports
We're in this with you.
A webinar series from Upward Sports made for church leaders, ministry directors and volunteer leaders. Hear directly from experts in the fields of disease control, hygiene, communications, mental health and more to gain invaluable information about safely and thoughtfully reconvening in your community.
connect with us on social media
©2023 Upward Unlimited™. Upward® is a registered trademark of Upward Unlimited. Upward is a 501(c)(3) non-profit ministry.