Building Community on a Concrete Floor
It started with a concrete floor, a stencil kit, and a vision.
Every time Nate Blanchard walked into his church's large multipurpose room, he dreamed of using the space for basketball. The room had a concrete floor and was equipped with a stage, speakers, and lights. Concerts, food outreach, and rummage sales all took place there, but the church had never used the space for sports. Nate, an athlete at heart, knew there was an opportunity for something more.
Nate and his family moved to Brighton, Colorado, in 2019 when Nate was hired as the pastor of Chapel Hill Church. As he came on board, Nate knew he wanted to explore new ways to bring his church together with the community. Meanwhile, the Holy Spirit kept drawing his attention to that concrete floor.
"Brighton is made up of a lot of working-class people who are pretty involved with doing stuff for their kids," Nate says. "And so they're going to play sports somewhere. If we can just get a handful of them to come here, we're going to tell them about God."
With this vision in mind and a stencil kit and spray paint in hand, Nate turned the concrete floor into a basketball court. A mentor of Nate's pastors a church with a longtime Upward league, so he was familiar with what Upward could offer to help him run his league. Nate got connected with Upward and the rest was history.
"Week by week," Nate recalls, "I'm painting these lines on. It took way too long. And I'd walk by after I painted a little section, and I'm thinking, 'Here we go.' Then the next week goes by, and we're starting the registrations. Then we have the evaluations. And I remember that first day, I was standing up on the stage just watching, and I realized, 'We've got a bunch of kids in here playing ball. It is on!'"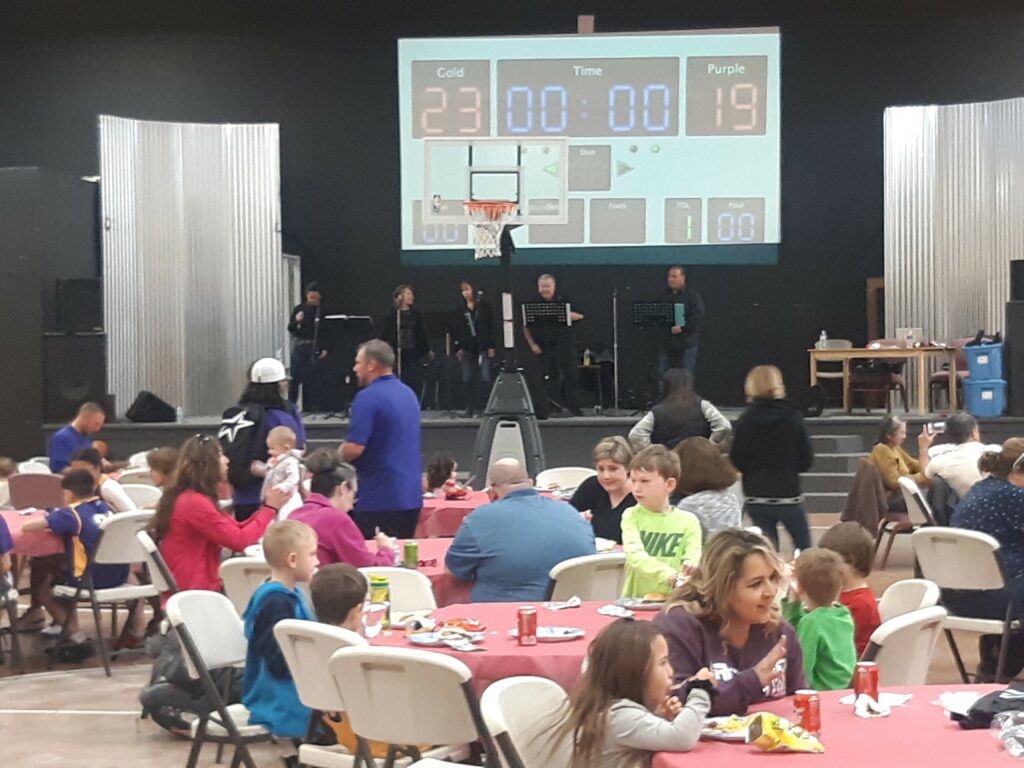 But the decision to use the space for sports ministry hadn't come without sacrifice. The church had been using the room for a successful food outreach program, which meant storing food on carts on that concrete floor. Nate knew this was a valuable ministry that made a difference in people's lives. 
Nate says, "I was all about that ministry, but we had a team that was worn down and a team who had taken on too much. I wanted to help them."
He spent time praying about the decision. It was not an easy process of letting go of one ministry to make room for another, but Nate believed the church could reach even more people. He knew there were other food ministries in Brighton where people could go. Meanwhile, God had called him to this church and had given him a passion for sports. He believed God was leading him to launch this new ministry.
"The church was initially very generous, and I think a little hesitant," Nate says. "You know, you get a new pastor and you're thinking, 'Okay, let's see what this guy is going to do.'"
Chapel Hill's generous and sacrificial spirit paid off in a big way. In their first season of Upward basketball, twenty-two people trusted in Jesus for salvation.
Nate remembers, "We had a big baptism service and brought everybody up there. The church realized, 'Wow, this is making a difference. This isn't just a bunch of kids playing basketball.'"
Since then, the church has rallied around the ministry. Church members have volunteered by coaching, manning the Snack Shack, and being prayer warriors for the league. Their financial giving even made it possible to add sports tiling to the court for the second season. No more concrete floor!
Now, after two seasons, Chapel Hill (a church of about 120 people) has seen 57 conversions and 38 baptisms through its Upward basketball league. They've also seen their church attendance grow—with several families who originally came for basketball now participating in worship services.
Turning Concrete into Community
Nate's vision has become a reality. With kids, parents, friends, and relatives attending games and practices, the community is in the building. In fact, most of the coaches have come from the community at large rather than the church itself.
"I go to practices," Nate says, "Almost every one of them. And I just kind of bug the parents while they're watching their kids. But towards the end, it's cool because you get in these relationships—and then you're at a barbeque or something, and you would never have met these people if it wasn't for sports."
This Fall, a volleyball net is going to be the next addition to what used to be a simple concrete floor. When Nate saw that Upward had started offering volleyball as a sport, he jumped at the chance to add it to his church's sports ministry.
"It was a no-brainer," Nate says. He has already recruited some volleyball coaches from the community to help get the new league off the ground.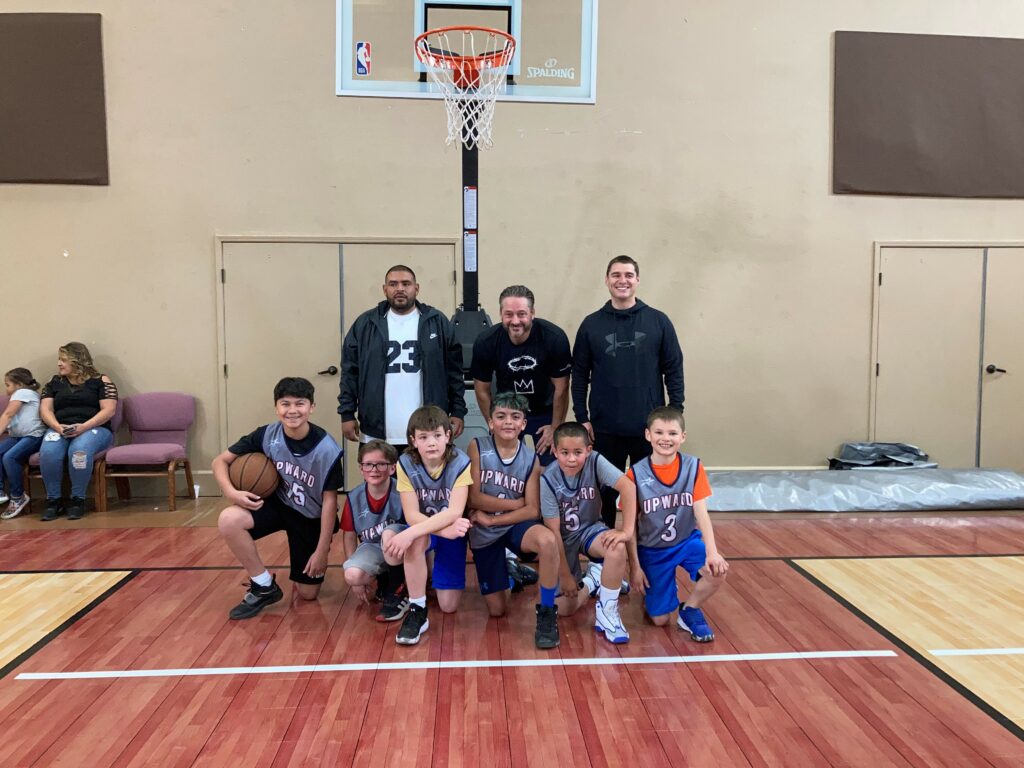 It is incredible to see all God has done with a simple dream and a reimagined space. But Brighton is not the only place it can happen. Nate encourages other churches to consider sports ministry to reach people in their communities.
"I believe God works through people, and he works through programs like this. People could be changed from your ministry, and I really do believe they will be. Because sports brings people together."
Nate's story is a reminder to all of us to look at what we've been given and figure out how to make the most of it for God's glory. Jesus fed over five thousand people with five loaves of bread and two fish. God used Nate to start a life-changing sports ministry with a concrete floor and a stencil kit. Look around. What has God given you?
connect with us on social media
©2023 Upward Unlimited™. Upward® is a registered trademark of Upward Unlimited. Upward is a 501(c)(3) non-profit ministry.